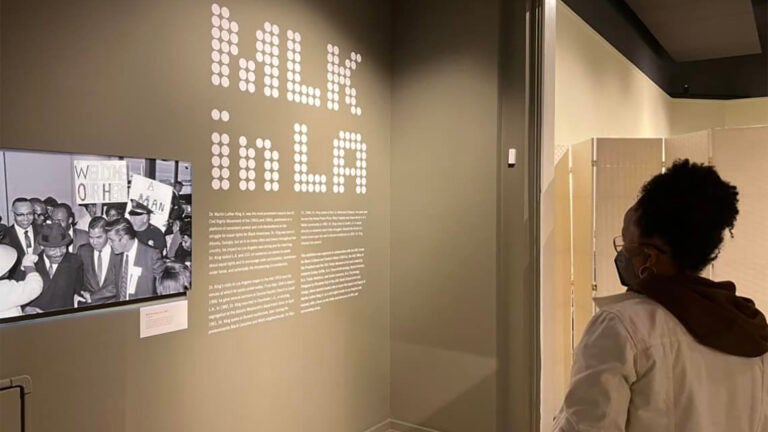 USC student curators and designer bring 'MLK in Los Angeles' exhibit to life
The exhibit at the USC Fisher Museum of Art spotlights civil rights leader's words, while historic images, audio and video recordings chronicle his visits to L.A. and USC.
When Martin Luther King Jr. spoke inside USC's Bovard Auditorium in 1967, the civil rights leader told the crowd of 1,800 people, "I'm in the heart-changing business."
Those words are among the memorable quotes by King that have been made into large, eye-catching murals for the new MLK in Los Angeles exhibit running through March 5 at the USC Fisher Museum of Art.
USC Roski School of Art and Design third-year student Nicolette Peji designed the exhibit and wanted it to have "as much loudness and kindness as it could," with the goal of emulating King's messages about unity, faith and strength.
Other King quotes given mural treatment include the famous "The time is always right to do right" and "Now is the time to make real the promises of democracy," which King said during a 1964 speech at Los Angeles Memorial Coliseum.
Taking up a wall from ceiling to floor is King's quote in reaction to the Watts Rebellion in 1965: "The catastrophe in Los Angeles was a result of seething and rumbling tensions throughout our nation and, indeed, the world."
Story continues after video
"The idea was to make his quotes and his words look as large as they feel when you hear them," Peji said. "These quotes are what he stood for and are the messages he tried to project. They are still pertinent to us to this day."
The exhibit's volunteer student curators — Kymia Freeman, Endiya Griffin and Sasha Lawrence — sought to honor King's legacy with the quotes as well as never-before-seen images and audio and video recordings chronicling his visits to USC and South Los Angeles in the 1950s and '60s.
"A lot of this exhibition was a learning experience for me," said Freeman, a public relations major at the USC Annenberg School for Communication and Journalism."Getting to celebrate Dr. King's impact and legacy this way is so meaningful to me as someone who loves art and who loves to write and who thinks that those things add so much to our world."
Insights into King's spirituality at MLK in Los Angeles exhibit
Lawrence, a psychology major at the USC Dornsife College of Letters, Arts and Sciences, said curating the exhibit gave her insights into King's spirituality.
"Everything we read in school was very concrete and pertained mostly to civil rights and activism," she said. "But he also was really big on compassion and love, and those are two things that really unify our world. If we have more compassion, we are able to achieve more."
Greedley Harris, director of strategic partnerships for USC Student Equity and Inclusion Programs, praised the students for successfully connecting history back to themselves and to the community.
"I cannot wait to see the campus come through here and see the various quotes, hear the audio and be here in community with each other celebrating the legacy of Dr. King," Harris said. "We're all still fighting for equality and social justice and inclusion."
The museum partnered with the USC Center for Black Culture and Student Affairs and the USC President's Office to organize the exhibit.
Bethany Montagano, director of USC Museums, said the student curators and designer have given the university "an incredible gift" and presented them with bouquets at the opening reception held on Jan. 13.
MLK in Los Angeles: 'You took the torch and you ran with it'
USC Black Staff and Faculty Caucus President Cynthia Brass was also at the reception. "We are so proud to see the young generation know who Dr. King is and what he did," she said. "You took the torch and you ran with it."
USC President Carol L. Folt toured the exhibit with the students and at the reception said of the group: "Talk about leaders. We're going to be hearing from them for a long time."
Folt further praised the exhibit at Tuesday evening's screening of the documentary MLK/FBI at Norris Cinema Theatre, which was attended by more than 250 people including the film's director, Sam Pollard.
"Can you imagine being 18 or 19 years old and doing your first curated show at a university museum?" Folt asked the crowd. "They are amazing students, and what they have put together is fantastic."