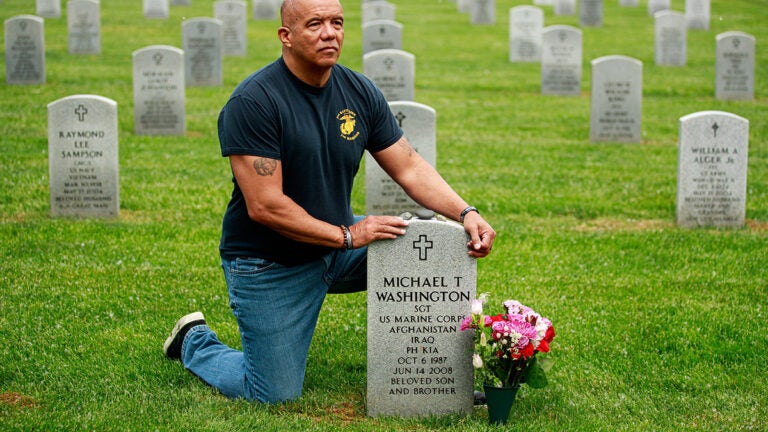 Veteran and Firefighter Who Saved Countless Lives Struggled to Save His Own
Burdened by tragedy and pain, USC alumnus Michael Washington almost gave up on life. Now he helps other first responders find hope and healing.
Michael Washington MSW '19 stepped to the edge of a bridge near Tacoma, Washington, carrying a lifetime's worth of stress and trauma on his shoulders.
As a firefighter, he had seen suffering from fiery car crashes and tragic shootings. He had served four combat tours as a Marine. Poverty, substance abuse, violence and molestation marred his childhood. And a son who followed him into the Marines was killed in battle in Afghanistan.
But as he stood on the brink of ending his life, he felt a presence. His son's spirit seemed to be holding him back, telling him his story didn't need to end that night on the bridge. Washington knew he still had work to do.
He stepped back from the edge.
"I don't want anybody else to go through that," says Washington, 59, looking back on that day a decade later. His journey of healing took him to the USC Suzanne Dworak-Peck School of Social Work, where he graduated from the Master of Social Work program.
"I don't want anybody to carry a burden for 50 years before they get to the edge of the bridge with all these things behind them. If I can develop techniques and training to help someone, that's what I want to do."
He now dedicates his life to helping other veterans and first responders who struggle with stress, anxiety and other mental health challenges.
"I've been through it," he says, "and if I'm able to help keep people from suffering more, that's a huge victory."
After Decades of Tragedy, a Veteran and Firefighter Begins to Heal
Born in Honolulu, Hawaii, Washington joined the U.S. Marine Corps after high school and served as a combat infantryman and intelligence operator. He also joined fire departments in Southern California and Seattle and traveled around the world as a disaster response volunteer. The high-stress work was fulfilling but also brought pain.
One tragedy that hit him especially hard was the loss of his son, Michael Jr. While on a road trip together after Washington's last tour of duty in 2003, Michael Jr. told him he wanted to enlist in the military after high school. Washington felt proud but also worried. He knew the risks and steeled himself for a moment he hoped would never come.
But on June 14, 2008, as Washington pulled on his gear for an emergency call at Fire Station 16 in Seattle, a white SUV arrived with two Marines in the front seat and his son's mother in the back. He knew before they said a thing: Michael Jr. had been killed at age 20.
"I was concentrating on being stoic and brave instead of just being an authentic person who got the worst news they can get," he says. "But behind my eyes, it was just chaos."
In an article he wrote for The Washington Post that led to an appearance on an Oprah Winfrey television special, Washington shared the pain and torment of his ensuing mental health crisis.
"I didn't know how to cope with the news, or even how to feel the loss, so I focused on trying to keep it together," he wrote. "That urge to 'stay strong' was partly a generational thing but also a product of the cultures that had molded me."
His role models in the military and fire department hid their feelings. They often numbed them with alcohol, and he followed their lead. Washington's marriage quickly deteriorated. Thoughts of harming himself flooded his mind. Then came the night on the bridge and the vision of his son holding him back.
That day began a long journey of recovery, starting with a retreat organized by concerned friends through a nonprofit called Save a Warrior. He went to therapy and began to recognize and process the traumatic moments of his childhood and time in the military and firefighting.
Inspired by his experiences in therapy, he joined the critical incident stress management team at the Seattle Fire Department. He helped his colleagues grapple with posttraumatic stress, substance use and other challenges related to their demanding jobs. Soon, he realized he had discovered his next career.
USC Alumnus Shares His Own Struggles to Help Others Recover
When Washington began looking into social work programs, USC quickly became a top choice. Although he has lived near Tacoma for many years, he spent time in Northridge, California, as a young man and admired the Trojans.
"I always wanted to play football for USC," he says. "This is going back to Anthony Davis and Charles White, the glory days. I never thought I'd go to USC, though, so it's really cool to now call myself a Trojan. Beyond that, the education I got in the MSW program was really priceless. It's allowed me to do so much. I feel like the sky's the limit."
Having completed his master's degree in 2019 and retired from firefighting, he now works as a therapist for law enforcement officers and firefighters in the Seattle and Tacoma region. He recently started pro bono work with U.S. Army and U.S. Air Force servicemembers at Joint Base Lewis-McChord. And he speaks around the country about stress, PTSD and suicide among first responders and veterans.
He still faces tough moments in his own life, like rising stress and anxiety during the recent military withdrawal from Afghanistan. But he has new awareness about how to face the pain. He also has the support of his wife, Valerie. "It's so important to have that person in your house, someone who has your six and who notices those changes in you," he says.
Through his ongoing hard work in therapy, Washington sees himself becoming a better husband, father and grandfather. And he remains committed to helping others walk a similar path of recovery.
"Being open and telling my story, it reduces that dominion that it had on me — the survivor's guilt, the shame of being molested, all these things that were shoved in a footlocker and thrown into the ocean, never to see the light of day," he says. "They were just festering and getting stronger. When I talk about them, it reduces their impact.
"They aren't supposed to go away, and I don't want them to go away. We're not trying to forget. It's about not having these past experiences bring down our current experiences and keep us from living to our full potential."