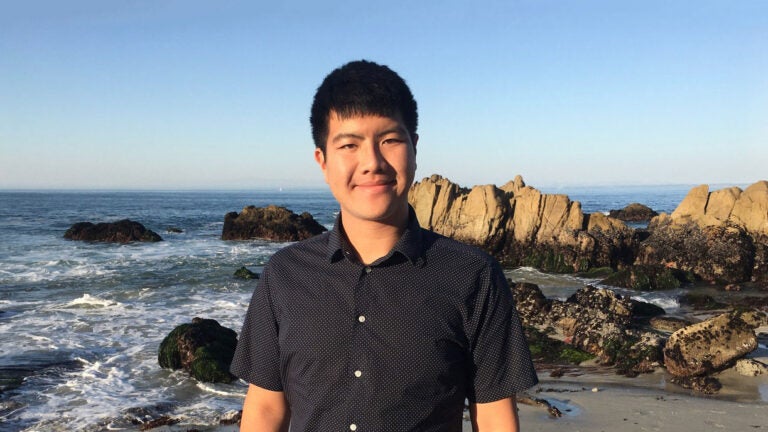 Finding community through tragedy: Incoming freshman chronicles his path to USC
From starting nonprofits to overcoming personal adversity, Marcus Lo has experienced more at 19 years old than many do in a lifetime. He's excited to add "being a Trojan" to that list.
To say Marcus Lo will be prepared when he enters USC this fall would be a major understatement.
While many incoming freshmen might be spending their summer enjoying the time off, the native of Pebble Beach, Calif., has been taking classes at Monterey Peninsula College after already passing a slew of college-level courses in high school. Between having a part-time job and starting his own nonprofit, he's also proficient beyond his years at balancing academics and work.
Those factors helped earn him a scholarship, but the academic and extracurricular accomplishments are not what stands out about this 19-year-old. It's how he was able to overcome unimaginable tragedy to do so.
"I've definitely had some little shakes here and there, but I knew that I could come out strong," Lo said.
When Lo was only 4 years old, his mother died of cancer. Twelve years later, his father would succumb to the disease as well. While coping with the death of his father, Lo's living situation became unstable. He was adopted by his uncle, and a short while later his maternal grandmother moved up from Irvine and rented a two-bedroom apartment to be closer to him. It was then that he began tutoring part time and working other side hustles to help her out financially.
"I wanted to take care of her by having a side job or by tutoring to help supplement her income beyond Social Security benefits," he said.
Incoming USC freshman embraces new mentor, new motivation
Michele Pollock, a teacher at Carmel High School, has known — or at least known of — Lo his entire life. Originally, Pollock was a patient of Lo's father, a local dermatologist, and the two would often chat about each other's children. Then, during Lo's freshman year in high school, he joined the Model United Nations at Carmel High, for which Pollock is an adviser. From that point, Pollock took on a mentorshiplike role for Lo, one that continues to this day.
When Lo's father passed away during the fall of his sophomore year, Pollock saw both the academic and personal impact it had on him. By the time junior year rolled around, though, she noticed the difference time and stability could make.
He is the most dynamic, motivated and bright student I've ever met, and I probably had 17,000 students.

Michele Pollock
"He hit his junior year and I think he could see that end in sight, so he really went for it," Pollock said.
He began taking AP classes and became extremely active in the robotics club and vice president of the math club while even starting his own business club.
"He is the most dynamic, motivated and bright student I've ever met, and I probably had 17,000 students," Pollock said.
The two still communicate often, with Lo coming over on an almost weekly basis to have dinner with Pollock and her family. They talk about everything from his current classes and extracurriculars to family and what he plans on doing as soon as he arrives on campus. In fact, Pollock has been a vocal supporter of Lo attending USC throughout the time she's known him.
"I told him early on, 'USC is where you need to be,'" she said.
MLB umpires' charity rewards Marcus Lo's dedication
Though he has yet to actually visit campus, USC is — by his own admission — Lo's dream school. He comes by this dream honestly: His mother was a USC alum, as is Pollock.
"He's worn a USC sweatshirt every day since he got in," she said with a laugh. "I told him for his birthday that he should choose a couple of nice sweatshirts because we need to rotate this."
In addition to mentoring and encouraging him to attend USC, Pollock has also helped Lo with applying for scholarships — almost more than she can remember. Earlier this month, Lo was awarded the 2020 All-Star College Scholarship by UMPS CARE Charities, the official philanthropic organization of Major League Baseball umpires.
The scholarship is for children adopted later in life, as those families often have less time to save for college. This year's scholarship is named in honor of former MLB umpire Eric Cooper, who died unexpectedly last fall. If you ask Paul Emmel, who interviewed Lo for the scholarship, he said UMPS CARE knew within the first few minutes that Lo was "our guy."
"He was a unanimous decision," Emmel said. "I think USC should be very proud of Marcus. We see it now, but I think USC will see it for years."
Emmel is the board secretary of UMPS CARE Charities and has been an MLB umpire for over 20 years. Though the scholarship itself has been around for around a decade, Emmel stressed that the relationship doesn't end when the organization awards the money. He said the reason Lo was chosen was his commitment to helping others. UMPS CARE will partner Lo with an MLB umpire and the Cooper family to not only keep him involved with the organization but to build an additional support system for him.
"We can't adopt these children, but we can do the next best thing and we can kind of quasi-adopt them into our family," Emmel said.
Future Trojan deeply understands the value of community
For Lo, continuing to work with UMPS CARE was never up for debate. He emphasized that he planned on staying in contact with an organization that helps children who were once "orphaned."
Shortly after Lo lost his father, he went on a mission trip to China and Korea to assist children living in group homes.
Even if I was at USC, I'd still be connected to my home, because they've helped me so much just to get this far.

Marcus Lo
"I myself was an orphan during that time, so like I could really understand what they wanted," he said.
What struck him the most was the smiles and overall joy the children seemed to share with one another. They were all in it together and became their own family, which Lo admits that he needed to see at that time. Though his experience could help him relate, it was their experiences and attitudes that ultimately changed him.
"That's when it occurred to me that trying to be a lone wolf only made things a lot worse," he said.
Lo plans to major in business administration at the USC Marshall School of Business and said that he's just excited for classes to start. He's already taken classes online, so that aspect of the coming semester doesn't really faze him.
Luckily, Lo won't have to go it alone for his first semester: He'll remain in Pebble Beach, near his friends, grandmother and mentors old and new.
"Even if I was at USC, I'd still be connected to my home, because they've helped me so much just to get this far," he said. "I feel an obligation to them to go to a good college and have a good career for myself, for my future family and for the people in the community who made me the person I am today."