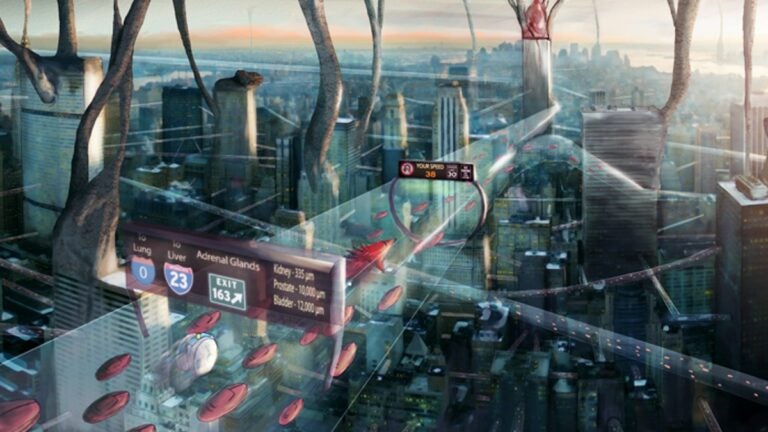 Mapping cancer: A new way to help patients deal with the disease
USC joins White House summit on efforts that could accelerate research and improve patient outcomes
Cancer patients can map their disease through a new social media-driven initiative involving USC that White House officials announced June 29 at the National Cancer Moonshot Summit.
The cancer-mapping initiative CancerBase was one of several highlighted at the summit hosted by Vice President Joe Biden and his wife, Jill.
Hundreds of patients and scientists — including Peter Kuhn, who helped create CancerBase and is a USC Dean's Professor of Biological Sciences, Engineering and Medicine — attended the summit to discuss efforts that may speed up research of the disease and improve patient outcomes.
Institutions nationwide, including the USC Norris Comprehensive Cancer Center at the Keck School of Medicine of USC, participated by hosting satellite moonshot events at their campuses.
At the White House summit, USC announced CancerBase, as well as a global collaboration to work with the Cancer Research UK Manchester Institute. Kuhn said he and other USC research teams will work with those of Professor Caroline Dive in Manchester to build and operate identical laboratories to share research data and experimental procedures in real time.
"Whether through the outstanding work of the Norris Comprehensive Cancer Center or the Lawrence J. Ellison Institute for Transformative Medicine, USC has no doubt emerged as a leader in the fight against cancer," said USC President C. L. Max Nikias. "I am thrilled by our selection to support U.S. Vice President Joe Biden's Cancer Moonshot initiative and am confident that USC's interdisciplinary efforts and bold investments in new technologies will help our nation make tangible progress."
An estimated 1.6 million Americans are diagnosed each year with cancer, which kills 600,000 Americans each year.
USC has been a pioneering leader in cancer research for decades. Cancer is among the many "wicked problems" of our time — those that require multiple approaches to understand.
"We're glad to showcase some of our efforts to solve one of the intractable problems of this century: cancer," said Provost Michael Quick. "At USC, we are bringing together professors, scientists, students and many others to make a global impact on this deadly and stubborn disease. We are knocking down walls between disciplines to create new ways to collaborate for this is the only way we can truly make a difference. This is the meaning of convergent science — an area in which USC is leading the way."
Progress in cancer research and patient care is hindered by problems such as access to information. CancerBase aims to address some of those barriers.
Obstacles to discovery
Kuhn said CancerBase is a grassroots collaboration of patients, USC and Stanford University scientists and social media companies that will enable researchers to gather basic data in real time from cancer patients via social media.
Based on patients' responses to basic questions about their disease, CancerBase will create a map that could help them understand the progression of their treatment and cancer. Patients also may be able to compare their journey to that of other patients with similar cancer. Their identities are kept anonymous.
One of the barriers that cancer researchers and patients encounter is a lack of timely information, said Kuhn, of the USC Dornsife College of Letters, Arts and Sciences, the Keck School, the USC Viterbi School of Engineering and the Michelson Center for Convergent Bioscience.
Kuhn has heard patients express great confusion about their disease. They also have struggled to easily access statistical information about other patients with similar cancer that can show how those patients fared and the treatments that were most successful, he said.
"The patients asked questions like, 'Hey, Peter. I was diagnosed with cancer. What does research know about my cancer?'" Kuhn recalled. "I realized that I couldn't answer that question, even though I have spent quite a bit of time in this field."
U.S. institutions amass vast quantities of cancer data, but much of the statistical data is stale, Kuhn said. Knowing what treatments are new and available could influence health care decisions that patients make with their doctors.
Academic volunteers
CancerBase involves five students from the innovative USC Jimmy Iovine and Andre Young Academy.
Students at the academy volunteered to work with Kuhn and some cancer patients on the design of the online CancerBase to ensure that they could easily and securely share information and then receive useful data in return.
We're trying to give patients as much knowledge and as much power as we can.

Sara Ma
"We're trying to give patients as much knowledge and as much power as we can," said Sara Ma, who will be a junior at the USC academy this fall.
Erica Muhl, executive director of the academy and dean of the USC Roski School of Art and Design, said CancerBase is a tremendous opportunity for the students at the Iovine and Young Academy where the interdisciplinary curriculum includes art and design, communication, engineering and technology.
"Working on groundbreaking projects like CancerBase coincides with the academy's mission and the diversity of the work that the students are engaged in," Muhl said.
CancerBase evolved through discussions among researchers and patients, including AnneMarie Ciccarella, of Long Island, N.Y., who has been treated for breast cancer and who previously has worked with Kuhn.
"I had no roadmap," said Ciccarella, who recalled that she was diagnosed 20 years after her mother's diagnosis in 1987. "With CancerBase, now we will have a way to navigate."