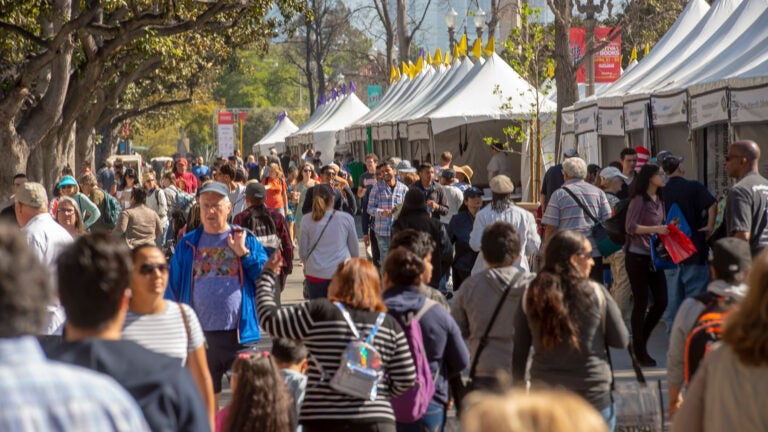 Los Angeles Times Festival of Books at USC: This weekend, a time for Trojan stars to shine
USC Stage and Wallis Annenberg Hall will be two Trojan hotspots during the two-day event on the University Park Campus.
When the Los Angeles Times Festival of Books returns to USC this Saturday and Sunday, hundreds of literary and show business stars — including Oscar winner Laura Dern, music legend Joan Baez, Friends actor Matthew Perry and Tony Award winner Leslie Odom Jr. of Hamilton fame — will be participating in panels and conversations.
The nation's largest literary and cultural festival also provides host USC — a major sponsor — with an opportunity to showcase plenty of its own stars. Accomplished and acclaimed faculty, students and alumni will headline programs inside Wallis Annenberg Hall and provide live musical entertainment outdoors at USC Stage.
USC Visions and Voices Executive Director Daria Yudacufski said USC's Ideas in Action panel dialogues will be an opportunity to delve into compelling topics and to highlight some of the incredible work being done at the university.
"There are so many different ways to experience the day," said Yudacufski, who oversees USC's programming at the festival. "Go in with some ideas in mind of what you want to see then just be OK with making some changes. Be open to saying, 'Hey, this is something I have not thought about, and I want to learn more.'"
Immigrant stories and experiences at the Los Angeles Times Festival of Books at USC
Pulitzer Prize-winning novelist Viet Thanh Nguyen, a University Professor at the USC Dornsife College of Letters, Arts and Sciences, will moderate Saturday's "Crossing Borders: Stories of Struggle, Survival, and Community" panel. Nguyen, author of The Sympathizer among other books, will be joined by other USC faculty members who have also written books exploring immigrant stories and experiences: Associate Professor Lan Duong of the USC School of Cinematic Arts, USC Dornsife Assistant Professor of history Joan Flores-Villalobos and Natalia Molina, Distinguished Professor in the Department of American Studies and Ethnicity at USC Dornsife.
Saturday's lineup of panels featuring USC experts also includes "Neurodiversity: Lived Experience, Advocacy, and Allyship," "Net Zero: California Climate Policy and the Future of Energy" and "Queer Bodies: Gender and Power in Art and Society."
Creating change through comedy
There will also be some levity amid Saturday's heavier topics. "Laughing Matters: The History and Power of Comedy" will feature stand-up comic Wayne Federman, who teaches the history of stand-up comedy at the USC School of Dramatic Arts; USC Dornsife American studies and ethnicity and anthropology Associate Professor Lanita Jacobs, author of To Be Real: Truth and Racial Authenticity in African American Standup Comedy; and performance artist and writer Kristina Wong, whose show Kristina Wong, Sweatshop Overlord recently had a successful run at the Kirk Douglas Theatre in Culver City. The moderator will be Zachary Steel, an assistant professor of theater practice and director of comedy at the School of Dramatic Arts.
Finding common ground at Los Angeles Times Festival of Books at USC
On Sunday, Robert Shrum, director of the Center for the Political Future, will moderate "Mending America: Overcoming Our Political and Cultural Divides." The legendary political strategist will lead a discussion focused on the intersection of culture and politics in society with panelists looking at how we can better understand divisiveness and find common ground.
Shrum will be joined by Provost Professor Jeffery Jenkins of the USC Price School of Public Policy, USC Price Professor Elizabeth Currid-Halkett and Emmy Award-winning producer and Professor Geoffrey Cowan of the USC Annenberg School for Communication and Journalism.
Also on Sunday, Varun Soni — dean of religious life at USC — will lead the panel "Muslim Inclusion and Empowerment From Hollywood to Higher Ed," which will explore Muslim representation in various contexts. Soni will be joined by USC Center for Education, Identity and Social Justice co-director Shafiqa Ahmadi; USC alumna Maytha Alhassen, a producer and writer on the Peabody­-winning Hulu series Ramy; Evelyn Alsultany, USC Dornsife associate professor of American studies and ethnicity and author of Broken: The Failed Promise of Muslim Inclusion; and Hajar Yazdiha, USC Dornsife assistant professor of sociology and author of The Struggle for the People's King: How Politics Transforms the Memory of the Civil Rights Movement.
Sunday's Ideas in Action lineup will also include "Supporting Mental Health and Developing Resilience for Youth Today" and "Confronting L.A.'s Housing Crisis."
Homegrown musical talent
The USC Trojan Marching Band will kick things off both mornings of the festival at USC Stage, located in Hahn Plaza. The band will be followed on Saturday by contemporary jazz group Marcello Carelli and the New Era Quintet, musician Mateo Gonzales, singer Maddi Lasker, R&B/hip-hop artist Lyn Starr, singer-songwriter Hailey Wild and the a capella group Troy Tones, established at USC in 2003.
Sunday's musical lineup includes The Ivory Quartet, singer-songwriter Ellie Williams, the R&B group Mani & the Wildflowers featuring graduate student Imani Duhe of the USC Thornton School of Music on classical trumpet, indie musician Snack Munson, and the 16-member ensemble CreSCendo led by Grammy-nominated jazz vocalist Sara Gazarek, a USC Thornton alumna who is now an adjunct instructor at the school.
"The majority of the artists who are performing on USC Stage are students at USC Thornton, and some are recent alumni," Yudacufski said. "It's a great place to see future stars and a wide range of music."
The Keck School of Medicine of USC will host a Health and Wellness Pavilion offering health screenings on both days. The festival's USC Friends and Neighbors Stage will celebrate community, local talent, art and music throughout the weekend.
The Festival of Books is in its 28th year and will include more than 300 exhibitors and more than 500 authors. The event moved to USC's University Park Campus from UCLA in 2011. The 2020 and 2021 festivals were held online because of the COVID-19 pandemic.
"For a university like USC that talks about lifelong learning and continued education and literacy, this is the perfect place for the festival," said Adam Rosen, USC associate vice president of cultural relations and university events. "We are reaching out to the community and bringing them to campus to see the environment that's here."
General admission to the festival grounds at USC is free, though many of the indoor conversation panels require tickets. Those tickets can be ordered in advance and may include a reservation fee. Download the L.A. Times Festival of Books app or visit the event website for more information and details.