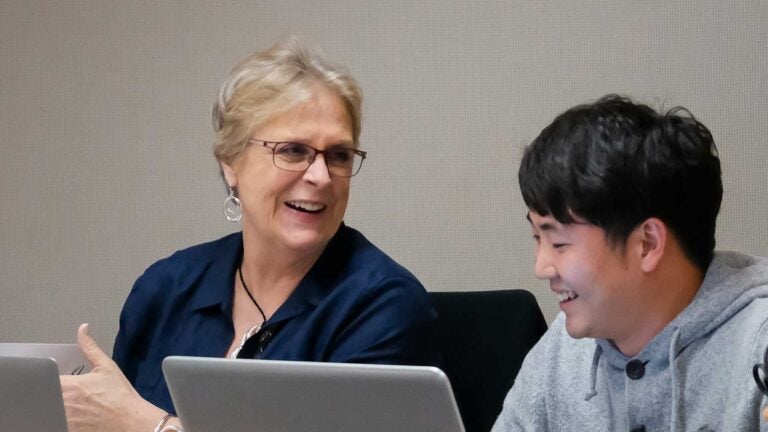 A lawyer (and grandma) becomes USC analytics student at 66
Attorney-turned-student takes tough classes in business analytics — all for the love of data
Sure, you can call Jane Eshagpoor a grandmother. Technically she is, with two young grandchildren she bonds with in Los Angeles.
But she doesn't get much time to grandparent between learning a statistical programming language and digging through dense data sets.
Eshagpoor, 66, is an attorney-turned-student in the Master of Science in Business Analytics degree program at the USC Marshall School of Business, which also makes her — technically — one of the oldest students on campus, a distinction she chuckles at.
"My son said, 'Mom, you'll be 67 when you graduate, who's going to hire you?'" she said with a laugh. "I told him, my professor tells me he has six companies waiting to hire me."
Taking on taxes
Eshagpoor brings a lot to the table. A family law practitioner with expertise in tax and public policy in her home state of Virginia, she also holds a master's degree in taxation, earning these degrees only after her two children were grown.
As she tells it, she enjoyed a busy and vibrant private practice in Virginia. But she was wondering what her next chapter would be when the movie Hidden Figures came out. The movie, about a group of female African-Americans at NASA who played important roles in the first space launches, reminded her of a long-forgotten ambition. "I could have been an aerospace engineer," she said.
Always good at math and science, in high school she was one of four girls out of a class of 600 in the honors math class, and would regularly best her brothers in quantitative games. But in the 1960s, young women weren't encouraged to pursue those talents, so instead she married and started her family.
Now, with her children long grown, she was inspired to re-invent herself.
"The movie reminded me of my love of math and analytics," she said. "I knew I had to try and pursue that."
No degree of difficulty
When a co-worker mentioned the growing field of data analytics, Eshagpoor decided to look into degree programs.
She quickly discovered USC Marshall's top-ranked specialty master's degree program and decided to take the leap. Members of Virginia's state government, in which she'd earlier worked, wrote her letters of recommendation. She made her application video, sent it all in and waited to hear.
"Her application stood out, not only because of her age and life experience, but just in terms of her obvious facility with data," said Abbass Sharif, academic director of the MSBA program and an assistant professor of data sciences and operations. "We were delighted to invite her into the cohort."
Plans quickly fell into place after that. With family in Los Angeles, she found an apartment and is enjoying Southern California while being a full-time college student once again.
She's happily found herself flexing her quantitative muscles in classes like "Applied Modern Statistical Learning Methods" and "Data-Driven Decision Making." She even took a linear algebra class to refresh herself … and got through it. "I'm pretty OCD on algebra," she said. "Long-term memory is a remarkable thing."
'Party' people
In the meantime, she is full of plans for how she will use her new skills. And when discussing them, she is as animated as any undergraduate.
"I tell my cohort, I'm going to do data for the next 20 years and then retire. You guys are going to do this sort of work for 40 or more years. I'm happy just to be at the party."
"The party" is happy as well.
"A person like Jane makes me more excited to do my job," Sharif said. "She is a role model, and she gives a solid example that learning doesn't stop, and age is a statistically insignificant variable in the equation. Her beautiful attitude is what makes Jane a highly statistically significant person."