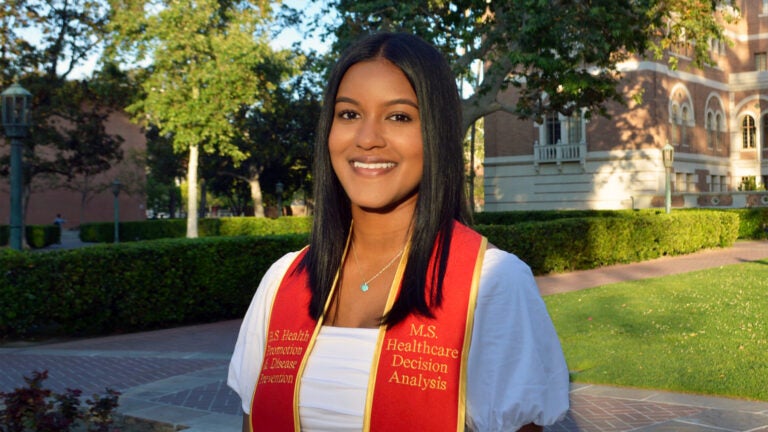 Graduating senior Divya Jeyasingh: 'The Trojan Family is very real'
COMMENCEMENT 2022: The Portland, Ore., native looks back on four years, two degrees and countless memorable experiences with the USC Helenes, Swim With Mike and other groups.
This spring, Divya Jeyasingh is receiving a bachelor's in health promotion and disease prevention from Keck School of Medicine of USC and a master's in health care decision analysis from the USC School of Pharmacy. In addition to working towards two degrees, the Portland, Ore., native was involved in a number of organizations including USC Helenes, the university's oldest all-female service organization, and Swim with Mike, a foundation helping student-athletes with disabilities. She also became involved with USC's chapter of Madhatter Knits, an organization devoted to knitting blankets for premature babies. Jeyasingh looks back fondly on her last four years.
What have been the highlights and high points of your USC experience?
The Trojan Family is very real. I have gotten to meet incredible students, staff and faculty, which has given me amazing friends and mentors. Everyone's willingness to collaborate and passion surrounding their interests is contagious.
Also seeing our school spirit on display, especially at sports games, is so much fun. Football games are daylong celebrations with a lot of energy from students, alumni, fans, the band, and of course, the team. I am a USC Helene and have made it to at least one of every sport's game in the last four years. We love going to games together and bringing our best school spirit. We also guard the statues with the Trojan Knights during [USC-UCLA] rivalry week. Staying overnight at Tommy Trojan and playing with some of my best friends was a great bonding experience.
Anything you learned about yourself?
I learned that I am capable of pushing myself to try new things. There have been so many unique opportunities to take cool classes or be involved in different events. I have been able to learn a lot and become open-minded.
Is there one object or moment you'll take away from USC that means the most to you?
I will always remember the 2019 football game versus Stanford. It was an incredible win, but I most remember staying after the game with all my friends to sing along with the band and celebrate. I remember looking around and feeling so grateful to be part of our university community.
How would you compare your freshman self to yourself today? How do you think you've changed in the last four years?
Through all of my experiences at USC, I have discovered new academic interests and followed them through opportunities in and out of the classroom. I am more confident and capable of doing more.
What's next for you?
I will be heading to medical school this fall.
What piece of advice do you have for freshmen coming into USC?
A: Get to know all the amazing people at USC. From professors to fellow students, to the people that take care of our beautiful campus, everyone has a story to share.