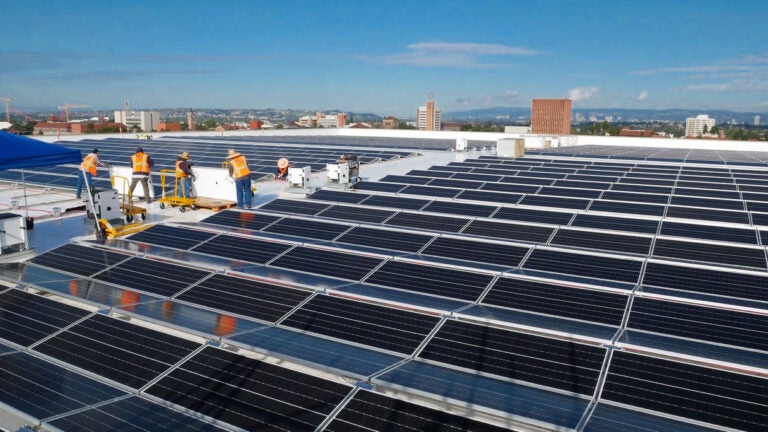 USC's largest solar project continues to transform the Galen Center's roof
All workers are abiding by COVID-19 distancing regulations as university officials expect the center's solar setup to be fully operational by summer.
From atop the Galen Center, the Harbor Freeway has never looked as traffic-free as it does these days. The roof of the USC sports arena has never looked so different either.
Just a few months ago, there was not much on the roof. This spring, it was transformed into USC's biggest sustainability project, with 1,500 solar modules covering 50,000 square feet. The work progressed on schedule in the middle of a city nearly frozen by the coronavirus pandemic, with the roof's openness allowing workers to distance themselves in accordance with COVID-19 regulations.
The work started in late February, when a giant crane started lifting crated panels six stories to the roof. Zelinda Welch, USC's energy manager and USC Marshall School of Business alumna who has overseen the project since day one, has watched it all become a reality.
"We couldn't have foreseen the circumstances," she said. "But the dedication, resiliency and professionalism of the team allowed us to move forward according to schedule. Through a joint effort where safety was given the utmost priority and precautions were immediately put into place, the project has continued onward helping to keep solar reality."
The solar installation is a cooperative effort involving Facilities Management Services and USC Athletics. The panels signal USC's biggest step yet in a broader plan to improve sustainability across the university.
"We strive to be the leader in everything we do, both locally and nationally, which is why we're thrilled that the Galen Center will become the largest solar project on campus," said USC athletic director Mike Bohn. "President Carol Folt has an inspiring vision for USC's sustainability efforts, and this project serves as an important example of our commitment to our environment."
The plan calls for the Galen Center's solar system to be fully operational by summer. It will provide up to 15% of the venue's electricity and represent USC's biggest foray yet into solar energy.