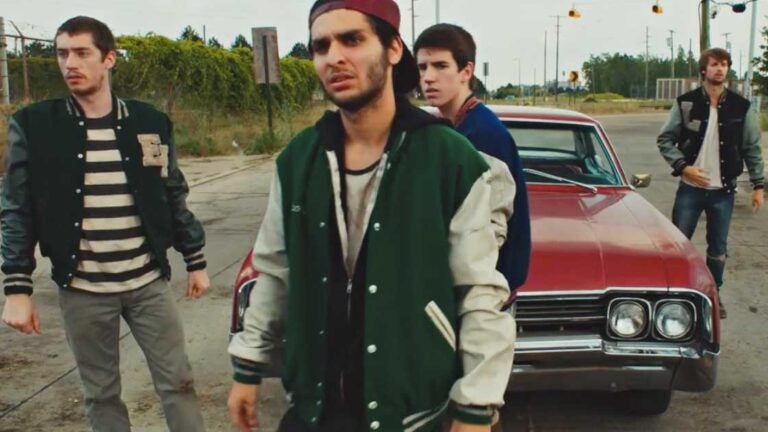 For aspiring actor, L.A. keeps the dream alive — and USC mentor helps him achieve it
USC senior Atif Hashwi snags his first lead role in a film and hopes to make his mark on diversity in Hollywood
Atif Hashwi remembers when he got a call while walking on the USC campus a couple years ago. It was for an audition.
He sent in a tape and subsequently auditioned in person with casting directors. It was for a lead role in Wes Anderson's The Grand Budapest Hotel. The part went to Tony Revolori, but Hashwi immediately saw the benefits of being in Southern California and at USC.
"Los Angeles is the land of opportunity, for sure," Hashwi said.
Hashwi, who grew up in Detroit and Dearborn, Mich., transferred to USC in 2013 to pursue his dreams of being an actor — and it's paying off.
The senior, who is studying theater and biomedical engineering, just snagged his first lead role opposite USC alumnus Patrick Schwarzenegger (son of Arnold Schwarzenegger) in the film Go North, about a post-apocalyptic world where young people escape their bleak life and journey into the unknown.
"I got a voicemail that I got it and I was running around the airport like 'Yay!' but no one knew what I was smiling about," he said with a laugh. "It was the first big role I got while out here and it was in my hometown."
Out on iTunes since January, the film has been covered by The Hollywood Reporter and Entertainment Weekly.
Help from a teacher
Hashwi credits USC Professor Joseph Hacker for helping him land the role.
"He helped me master the audition and make it seem less intimidating," he said.
Go North was filmed in summer 2015 in Detroit. The neighborhoods that were largely vacant due to the economic downturn served as the film's backdrop — sad but poignant for Hashwi.
"We shot at this one school. It was huge. There were probably 1,000 kids there in its heyday," he said. "It was completely abandoned. The books were on the floor."
He felt good bringing some revenue and attention to a city in the midst of rebuilding.
"Detroit is on the come-up," he said. "One day, it'll be back."
High school parts
Hashwi began acting in high school, getting his start in productions of West Side Story and The Diary of Anne Frank.
But it was getting accepted to Usher's Camp New Look foundation that really stoked his enthusiasm. He's still part of it as a "mogul in training," mentoring youth across the country. The program aims to arm creative youth with business and leadership skills. Usher taught him the importance of seeking opportunities and how that can translate to success.
That's why he moved to Los Angeles. And that's why he's also majoring in biomedical engineering. It's important to stay nimble, he said.
As he gets more roles, he hopes to influence diversity in Hollywood.
"I hope that more roles are written that provide a positive light on the Arab-American experience," he said. "I hope to combat negative stereotypes by the type of characters I play in order to bring people together."
And those roles could come soon. He recently got new management with a firm that also represents Oscar winner Brie Larson (Room) and Michael C. Hall (Dexter).