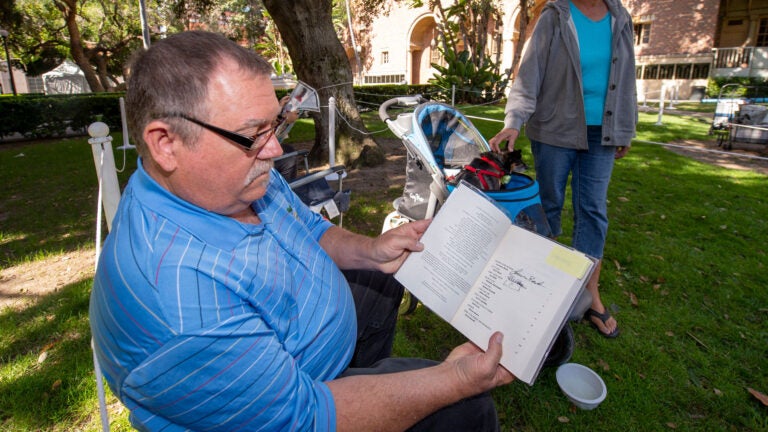 Festival of Books returns to USC as an in-person event this weekend
Considered the largest literary and cultural festival in the nation, the event is expected to draw more than 150,000 attendees Saturday and Sunday.
For the first time in three years, the Los Angeles Times Festival of Books will leave the virtual confines imposed by the COVID-19 pandemic. The largest literary and cultural festival in the nation returns to the USC University Park Campus April 23-24. The event is marking its 27th year and its 12th at USC.
More than 550 participants will be on hand with books and merchandise for sale, along with food trucks, Los Angeles-area vendors selling sustainable and homemade goods, musical performances and more.
Included in the more than 250 events are numerous USC activities in the areas of academics, literature, performing arts, health and civic engagement.
USC Festival of Books programming:
Ideas In Action: USC panel dialogues will include "Parenting Today: Navigating Stress, Health, and Social Upheaval," "Rise, Resist, and Imagine: Collective and Creative Visions for Change," "Confronting Climate Change: Solutions for a Sustainable World," "Infrastructures of the Future: Technologies for Making Public Life," and more.
The Keck Medicine of USC Health Pavilion will offer health screenings for skin cancer, blood pressure, glucose, BMI, sleep apnea and dental health.
Highlights of the USC Stage include a festival kickoff with the Trojan Marching Band, as well as musical performances by Greta Pasqua, Jordyn Simone, Sophia Rae, SoCal VoCals, and more.
USC faculty, staff, and alumni will make appearances in various L.A. Times programs like "Feminism and the Personal Essay," "LeBron James & L.A.'s Superstar Tradition," "George Sanchez, Reading from 'Boyle Heights,'" and "Understanding L.A.'s Homelessness Crisis."
The USC Friends and Neighbors Stage will celebrate community, local talent, art and music by featuring family-friendly activities throughout the weekend, including author readings, book giveaways, educational activities and prizes.
Admission to the festival is free, though indoor conversation panels require tickets that can be obtained online; a limited number of tickets will be available at the festival.