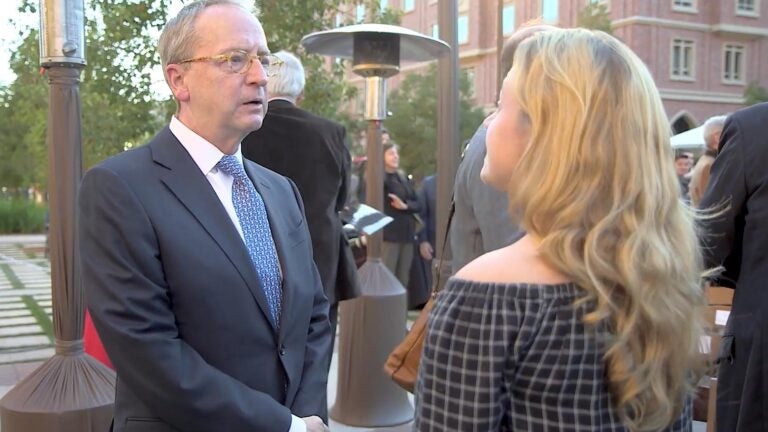 Students with a passion for social justice find a home at USC's Bohnett Residential College
Bohnett Residential College is a thriving community for students interested in social justice and community service
USC Trustee David Bohnett has built his career and philanthropy around the principles of social justice, community service and entrepreneurial spirit.
So when he endowed and named a residential college at USC Village, a place for USC undergraduates to live and learn, he emphasized the same ideals. The David C. Bohnett Residential College is home to college students who want to make a better world and find solutions to important social issues such as homelessness, gun violence and college access.
David Bohnett's vision for social justice
USC students living at Bohnett Residential College in its first year are already embracing community service and social justice. Hear the students and Bohnett talk about their passion for social justice on this video.
The residential college is just the latest step in a growing movement to bring an academic side to social activism not only at USC, but at universities nationwide. At USC, the USC Rossier School of Education hosts the Center for Education, Identity and Social Justice, for example. The center's mission is to eradicate discrimination, using rigorous research and analysis. And the USC Price School of Public Policy offers master's and certificate programs in social justice. These teach tools and scholarly theories about social justice. These tools aim to help alumni change communities for the better.
A tech entrepreneur and philanthropist, Bohnett founded the media and e-commerce company GeoCities.com in 1994. He later established a venture capital firm, Baroda Ventures, to invest in tech startups. He also created the David Bohnett Foundation, which provides grants to support innovation in arts, education, civic programs, LGBT-related causes, student leadership, voting rights, reduction of gun violence, and animal welfare and rights. He earned his bachelor's degree in business administration from USC.