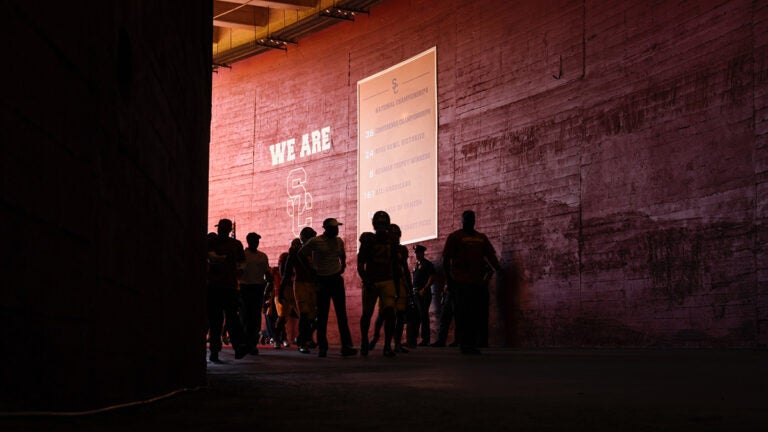 Let's Talk About the Quiet Crisis in College Sports: Mental Health
Student-athletes have long stayed silent about depression. USC sport psychologists are telling them it's OK to ask for help — and they're not alone.
"This depression get the best of me…"
Seven words.
They blink into existence at 3:06 a.m. on Feb. 17, 2018.
It's one day before DeMar DeRozan competes in the NBA All-Star Game. As one of the world's most skilled and admired basketball players, he should be excited, pumped up to show off his talents to millions of fans. Or better yet, he should be getting the rest he needs to perform at his peak.
Instead, he is lost — adrift in a sea of anger, frustration, anxiety, sadness and pain.
He taps out the simple message on his Twitter feed.
Seven words.
A jolt of honesty after years of suppressing his emotions deep inside.
"It was a moment where I couldn't take it anymore," the former USC men's basketball star said during a panel discussion on college athlete mental health. "I couldn't hide behind my shield anymore. I just came out and expressed it, hoping someone could relate and make me feel better."
With those seven words, DeRozan revealed an unspoken truth about sports: For decades, mental health has been glossed over, pushed aside or covered up with platitudes about being tough.
It rings true at the elite level. DeRozan's online admission drew media coverage for breaking the silence on how many professional athletes struggle with anxiety and depression. Along with fellow NBA star Kevin Love and tennis phenom Naomi Osaka, he's a powerful voice in a growing national conversation about the lack of support for mental health issues.
But that superhero mentality, the belief that athletes can't show weakness, plagues more than professional sports. USC sport psychology expert Robin Scholefield '84 says its roots run much deeper, through college and high school teams and even to youth leagues. Coaches, parents and athletes themselves increasingly emphasize performance rather than the personal growth and character development that builds a foundation for well-being, fewer mental health challenges and more consistent success.
"As we have become a more achievement-focused culture, well-being has become more rather than less elusive," she says. "That doesn't mean that achievement isn't good, it just means that in and of itself, it is not enough to sustain a person. Alone, excellence doesn't lead to happiness."
Whether in academia, athletics or other areas of performance, that intense pressure to excel can lead to profound emotional distress. Scholefield strongly believes athletes of all ages and abilities need healthy relationships and a greater purpose beyond winning to sustain motivation and meaning.
"What is happening inside athletics parallels what's happening in the larger culture," she says. "Only it may get a lot messier and more complicated when you're trying to grow up in the public eye and perform at an elite level all the time."
USC Takes the Lead on Mental Health for Student-Athletes
When Scholefield began counseling student-athletes at USC 23 years ago, they typically reported mental health issues like burnout during their junior or senior year. In the past decade, she has seen more first-year Trojans exhausted by academic and athletic pressure related to getting into college or earning a sports scholarship. When they arrive at USC, they face packed schedules, academic pressure, high expectations, stress, social challenges, performance anxiety and more. COVID-19 brought even more disruption to their daily lives last year, severing their connection with a large part of their identity as athletes. Coupled with political and social upheaval, it exacted a heavy toll on many, particularly student-athletes of color.
USC's sport psychology department strived to keep pace as more students sought supportive services. These trained psychologists and counselors specialize in working with student-athletes. Similar to the university's main student counseling center, they are hired through the Department of Psychiatry and Behavioral Sciences at the Keck School of Medicine of USC to reflect the diverse racial and ethnic backgrounds of the student-athletes they serve. After nearly doubling in size to 10 staffers during the past few years, it's the largest university-based sport psychology team in the country.
Scholefield leads the effort as clinical professor in the Department of Psychiatry and Behavioral Sciences; director of culture, well-being and sport psychology in athletics; and associate director of clinical and sport psychology services in counseling and mental health. Her squad of clinical sport psychologists meets individually with Trojan student-athletes from once a year to weekly, along with team gatherings that help all players get used to interacting with mental health professionals.
The whole healthy person is the most consistent peak performer. If you're not right with yourself, you're not going to be OK as an athlete.

Robin Scholefield
The sport psychologists provide individual therapy sessions to talk through personal struggles. They hold team meetings to discuss team dynamics and performance. They educate coaches and players about depression, anxiety, suicide prevention, substance use, body image, eating disorders, healthy relationships and the psychological effects of an injury. And they can step in to respond to urgent crises like severe depression and suicidal thoughts.
The overarching goal, Scholefield says, is to create a culture of health that empowers student-athletes to perform at their best. "The whole healthy person is the most consistent peak performer," she says. "If you're not right with yourself, you're not going to be OK as an athlete."
The Quiet Crisis in College Sports: Mental Health
College students across the country are asking for help with stress and anxiety, including a notable percentage of student-athletes.
An NCAA survey in 2015 found 30% of participating student-athletes reported feeling seriously overwhelmed during the past month. A third struggled to find energy for other tasks because of the physical and psychological demands of their sport. Nearly 25% felt mentally exhausted. Less than half of those who sought help for mental health issues reported satisfactory care from their team or university.
Those findings prompted the NCAA to make the mental health of student-athletes a top priority, says Brian Hainline, the association's chief medical officer, through resources like its Sports Science Institute. Still, many collegiate athletic programs struggle to adequately screen for depression and anxiety or provide emergency support or referrals to outside care. But Hainline praises USC's leadership in the field.
"USC is really a model, especially under Robin," he says. "We collaborate a lot, and she is a national leadership voice for mental health."
Scholefield is intimately familiar with the issues athletes face — she's an Olympic medalist who swam for USC. Elite athletes tend to put their athletic identity first, often ahead of other identities, she says. But USC's sport psychology team, which is staffed with many former collegiate athletes, knows the perils of that mindset.
"With a performance-based identity, if you aren't achieving, you don't perceive yourself to have value," she says. "Then when you do achieve something, it may be experienced as relief more than joy."
Instead, her mental health team helps student-athletes view their sport as only one facet of their personality.
USC Hurdler Faces Tough Barriers Head On
Omotade "Tade" Ojora knows all about the pressure of high expectations and adjusting to the challenges of elite collegiate athletics.
The junior sprint hurdler for the track and field team discovered his talent early. Growing up, he could afford to skip a practice and still excel. But when he came to USC, he suddenly faced much stiffer competition and a rigorous training schedule.
He also faced a tough transition to life in California. Ojora spent his childhood in Nigeria and then moved to England. Everything seemed different when he arrived at USC in fall 2018 — the weather, the humor, the accents, the food. He missed his family, and after weeks of waking up before sunrise for early morning practices, he considered quitting.
"I thought, what am I really doing this for?" he says. "I'll admit that at first, I was doing it because other people expected me to do it. Other people said I could accomplish this or that. At the end of the day, that can only keep you going for so long, seeking other people's validation. I had to look within myself to find something else to keep me going."
Life got even tougher when his grandfather died a few months into Ojora's first semester. He knew he had to reach out for help. Somebody encouraged him to look into counseling sessions offered by the sport psychology team. Although he felt skeptical at first, he made an appointment. He has returned nearly every week since.
You won't hear any radical answers or magic solutions to your problems, but it's a conversation you need to have with someone who is in the field and can give you good advice.

Tade Ojora
"It's been a complete game changer, being able to speak to someone with no judgment," he says. "It's a way to vent and hear feedback. You won't hear any radical answers or magic solutions to your problems, but it's a conversation you need to have with someone who is in the field and can give you good advice."
Now when Ojora feels overwhelmed by anxious thoughts, he writes down every worry that's bouncing around in his mind. It helps him identify the things he can control and develop a plan to address each challenge.
With more balance in his daily life, the communication major has also seen the benefits as an athlete. "I don't bring my stresses and relationships — family stress, school stress — onto the track," he says. "If that's in the back of my mind, I can't perform to the best of my ability."
The stigma surrounding mental health support is a challenge for student-athletes, but Ojora does his part to dispel myths and misconceptions. When teammates talk to him about their problems, he gently suggests they meet with a sport psychologist. And he uses his own experience as proof of the payoff.
"I really do think therapy should be a universal thing," he says. "It has done so much for me, even beyond the stresses I'm feeling and my improvements in performance. It's helped me so much, and I do think it's 100% necessary, not just as an athlete but as a person."
Peak Performance Starts with Good Mental Health
Matthew Katnik '19 MS '20 saw the paralyzing effects of pressure and high expectations surface during his third year at USC. They hit the shot putter hard.
"It started to build up to where it broke me," he says. "I just wasn't myself when I stepped into the ring. I was always thinking about other things. I couldn't focus. That's what started my journey with mental health."
He initially joined the track and field team at St. John Bosco High School in Bellflower, California, to get out of spring conditioning for football. But he enjoyed it so much, he switched loyalties. By his senior year, he was among the top high school shot putters nationwide.
He followed a long line of Katniks to USC — among several dozen alumni in the family, his father, John '91, played football for the Trojans, as did his older brother and three cousins. Katnik performed well his first two years. Then he felt the weight of expectations, especially his own, to be among the best in the nation.
Self-doubt and negative thoughts nagged him. What if the shot slips off his neck? Is everyone watching him? Would he mess up his spin? His throws started to fall 6 to 8 feet shorter than usual.
"I would actually be yawning because I was so unenergetic and lacked emotion," he says. "I would step into the ring for warmup and if I had one bad throw, it was over. The meet was over in my head."
As his athletic performance slipped, Katnik knew he had to open up to his coaches and parents. Then came another daunting step: taking his coach's advice to meet with the sport psychology team. "It's weird, you see the frosted glass door and you don't really know what's on the other side," he says. "In reality, they are amazing people. They're angels."
Katnik started with mindfulness and visualization. He spent a few minutes each day using a meditation app on his phone, slowly building up to 10-minute sessions. They helped him concentrate on his technique, which led to better workouts.
He also created a routine for each throw in which he focuses on every sensation. His heels clicking against the toe board. His feet sinking in the dirt. The cool metal of the shot pressing against his neck.
Before big competitions, he uses a short audio guide that walks him through the event. He listens to it many times, picturing each tiny detail of his performance. "By the time I get there, it's not the first time I'm walking into a national championship," Katnik says. "It feels like the 15th time. I've seen this before. I've done this before."
Throughout 2019, his confidence swelled. Every time he stepped into the ring, he knew he would throw at his personal best or better. At the indoor national championships, he entered ranked 14th and finished in seventh. At the outdoor championships, he rose from 20th to sixth.
"I'm having so much fun with it," he says. "I wish I could do it longer."
Better Mental Health Helps Student-Athletes Find the Fun in Sports Again
Katnik has some extra time to enjoy his newfound confidence. After COVID-19 led officials to shut down the 2020 season, the business major gladly accepted the offer of one more year of eligibility. To stay busy during the pandemic, he built a workout gym in a storage container to keep up with training and started a moving company with a few friends. Katnik also met regularly with his sport psychologist to keep his mental game sharp.
He brushed off the rust and jitters during his first track meet this spring, throwing the 16-pound shot nearly 65 feet at the USC Trojan Invitational — a personal best. Then he shattered USC's shot put record with a throw of 68 feet, 1.5 inches at a dual meet against UCLA in early May. But Katnik knows he has more in the tank. He dreams of qualifying for the national championships, placing in the top three and making the Olympic trials.
He wants to help his teammates achieve big things, too.
It would be nice if people didn't have to hit such a low before they start working on this. If I had started doing this freshman year, I bet I would have saved a lot of time and tears and agony.

Matthew Katnik
As a two-time All-American and team captain, Katnik encourages younger student-athletes at USC to embrace mental health. He tells them to view the mind as yet another muscle to train. And he's gratified to see growing awareness of mental health in athletics.
More student-athletes are opening up about their personal mental health struggles, including former USC diver Haley Ishimatsu '15 and sprinter and hurdler Anna Cockrell '19. Katnik credits his fellow Trojans and other superstar athletes like DeRozan and Love for sparking the conversation.
"I know it must be so hard for them, but I'm sure they've put aside their ego to the point where it doesn't matter," he says. "It would be nice if people didn't have to hit such a low before they start working on this. If I had started doing this freshman year, I bet I would have saved a lot of time and tears and agony."
DeRozan admitted during the 2019 panel discussion that he still struggles with depression. Now in his early 30s, he also regrets missing out on experiences because he fixated on his identity as a basketball player. Like many athletes, he believed his performance on the basketball court reflected his value as a person.
But with age — and parenthood — came perspective.
"I'm more than a basketball player," DeRozan said. "My kids look at me like I'm the greatest person on earth. They couldn't give a damn if Daddy had a bad game."
That realization helped him see that the path to wellness starts with vulnerability. He opened up to close friends and expressed his emotions, rather than pushing people away or burying difficult feelings. He told the audience that he decided he didn't want to go through life angry and unhappy and lonely. And he wants to help others make that same decision.
"It's OK to be vulnerable," DeRozan said. "It's OK to want to be better. It's OK to break yourself down to be able to build yourself back up to be something better and stronger."