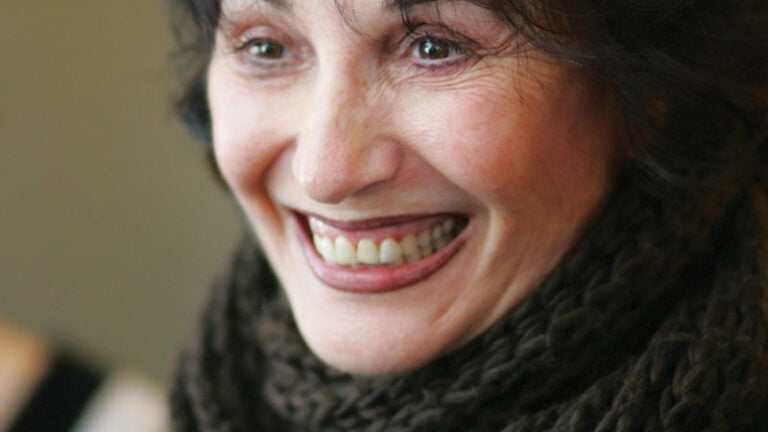 Clinical Psychologist Heals Unseen Wounds
A clinical psychologist helps PTSD patients find a path forward.
In honor of her work in the community, Priscilla Partridge de Garcia '63, MS '67, EdD '72 lit the Olympic torch in Santa Barbara, California, as part of its journey to the 1996 Atlanta Games. Accompanied by police officers, she high-fived cheering bystanders as she ran along the designated route. It wasn't until later that she learned some observers were less supportive. "I'd received 17 death threats," she says. "Turns out, the runner who lights the torch is always a target." She subsequently discovered that "beyond the police that I knew of running beside me, there were also CIA members all around and snipers covering me from the trees."
She might not have known about the threat to her life, but she does understand the impact of fear. Her life's mission is to help people who've grappled with violence and loss.
A clinical psychologist in private practice, Partridge de Garcia works with clients suffering from post-traumatic stress disorder. She also studies mind-body connections in the aging brain, dementia and Alzheimer's disease. Through her one-on-one work with patients in Camarillo, California, she helps heal unseen wounds that lie deep in the psyche, helping her patients move past trauma.
She entered the field in 1975 as a young psychologist at Oxnard College's Re-Entry Program. She transitioned people experiencing PTSD into college courses, then careers. The students Partridge de Garcia encountered ran the gamut from domestic abuse victims to Vietnam War veterans. "I realized they had a lot of blocks from the past," she recalls. "The goal was to help remove disabling patterns. Sometimes talk therapy alone just doesn't do that. For someone to really get well, working on all levels—emotional, physical, spiritual and intellectual—has to come into play."
Beyond traditional therapy, Partridge de Garcia's uses eye movement desensitization and reprocessing, hypnotherapy, neuro-linguistic programming, biofeedback and a brain-training machine akin to a video game. She emphasizes the power of the mind. "We're fragile, but able to overcome our past," Partridge de Garcia says. "There's always that little light, hope or person in the background letting us know we're going to be OK."
She encouraged Oxnard College to expand the program by establishing a Re-Entry Center, where she worked until 2002. Grateful clients have kept in touch. "Each Christmas, I get phone calls from veterans I've worked with, thanking me because they can sleep at night," she says. "Or Re-Entry Program participants who've turned their lives around and become lawyers, doctors, social workers."
As a devoted Trojan with three degrees, she's also stayed close to her alma mater. She proudly rattles off, "I'm a Helen of Troy, on the board for the Half Century Trojans and 50th Reunion Committee, member of Town & Gown, donor for USC Rossier School of Education, holder of Cardinal & Gold season tickets." She and her husband, Pedro Garcia EdD '83, a professor of clinical education at USC Rossier, haven't missed a home football game since 1977.
Much like the day she carried the Olympic torch, Partridge de Garcia knows firsthand that moving ahead in life often requires support from others. Her Trojan network helps, and so do her guiding words: "Keep your mind on your life's purpose, be with other people, stay present and in control of what you can learn and build."