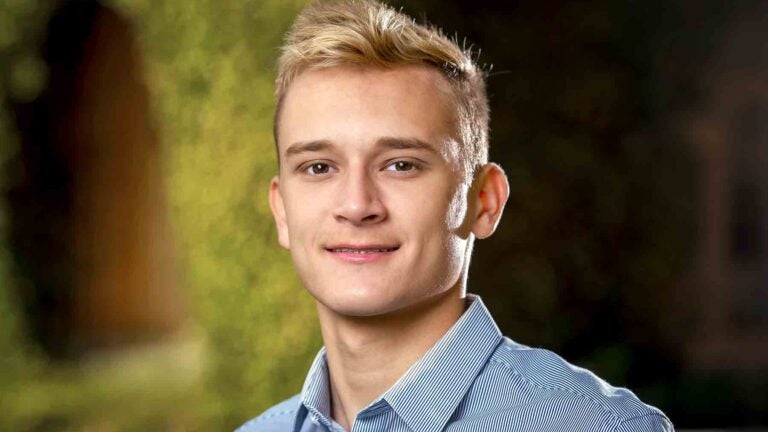 City Hall internship opens doors for USC undergrad
USC Price student aims at a career in real estate development, but he'll keep local government in mind, too

Third in a four-part series on the Schaeffer Government Service Fellows Program.

Spending a summer in L.A. City Hall was an eye-opener for USC senior Jack Romero. He had always planned on working for a city planning department and, under the Schaeffer Government Service Fellows Program, he was able to work for the Mayor's Office of Economic Development.
"I definitely learned so much working for the government," Romero said. "I was on the small business team and I got to plan events for outreach. We did presentations and held meetings about the office."
The opportunity to see firsthand how local government works was a great experience, he said. But even better was the chance to meet officials and staff at all levels in City Hall.
"The networking aspect of it was invaluable," he said.
Romero, a real estate development major at the USC Price School of Public Policy, said he wants to work for a real estate company as an analyst. But he's not closing the door to local government.
He attended his first City Council meetings which "were not at all what I expected." He said he found the meetings "always interesting" and that council members talked about issues most people typically don't hear about.
The Schaeffer Government Service Fellows Program is geared toward students like Romero. Undergraduates are chosen to spend 10 weeks interning with agencies and elected officials at the federal, state and local levels. Schaeffer Fellows are paired with a USC alumnus in a related field who serve as a mentor during the internship. Travel and housing are paid, and fellows receive a stipend.
Romero said he learned about the program from an email sent by USC Price.
"It was one of those things that I happened upon by chance, but it snowballed into something great," he said.
Romero especially appreciated the responsibilities he was given during the internship. He, along with another Schaeffer Fellow, gave presentations about different projects and planned meetings and other events.
"I met a lot of people from cool, interesting backgrounds," he said. "What I liked about working for local government is that you have an opportunity to make change in your city."