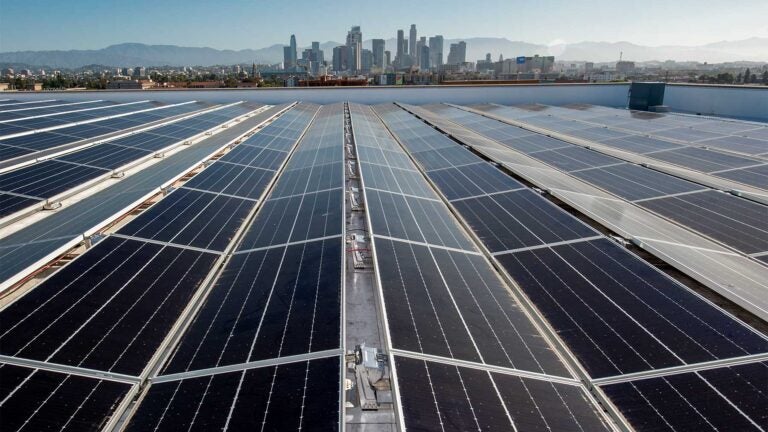 Driven to lead, USC sets the pace on carbon neutrality
In a move taken by only a handful of universities, USC aims for carbon neutrality. By 2025, USC will have improved its energy efficiency and expanded the use of solar power. USC also has made sustainability a core part of its curriculum, fostering global citizens who will fight climate change.
USC is aiming for clearer skies by going carbon neutral by 2025.
Recognizing the need for leadership in the race to confront climate change, the university will rapidly advance sustainable practices, upgrade campus facilities and begin the transition to a fully electric fleet.
"The challenge of climate change is immediate, and USC is setting an aggressive timeline to achieve carbon neutrality in a short amount of time," said USC President Carol L. Folt. "Our responsibility is twofold — to our students who will inherit this world, and to the communities we share with our neighbors in Los Angeles. We're answering the call to take immediate action to alleviate the worst effects of the climate crisis."
The challenge of climate change is immediate, and USC is setting an aggressive timeline to achieve carbon neutrality in a short amount of time.

Carol L. Folt, USC president
New energy-efficient buildings, improvements to older structures and the installation of more solar panels across campus are key to achieving the goal. USC is not starting from scratch; it is building on substantial progress made since Folt began as USC president in 2019.
Leading the way
Folt has positioned USC as a leader in sustainable practices. In June 2021, Folt participated in the Los Angeles Business Council's annual sustainability summit with L.A. Mayor Eric Garcetti and Nigel Topping, the United Kingdom's special climate envoy. In 2020, Folt engaged civic and business leaders at VerdeXchange, a major California conference on green tech and commerce held in L.A. There, she shared her plans for making USC a greener university through efforts such as building upgrades to reduce energy waste and switching to electric vehicles.
Sustainability was a focus from the beginning of her presidency. On her inauguration day in 2019, Folt participated in and spoke at DivestSC, a USC student climate protest that advocated for reducing USC's investments in fossil fuels. Earlier this year, the USC Board of Trustees voted to phase out fossil fuel investments.
Meanwhile, USC scientists and engineers have become influential collaborators in local and national climate-change discussions, particularly the inequitable effect of extreme events linked to rising temperatures — storms, drought, wildfires and water crises — on poor families and their communities.
Last summer, a group of USC scientists and engineers wrote a National Renewable Energy Laboratory report offering L.A. a roadmap, called LA100, on how to phase out the use of fossil fuels and switch to alternative energy sources. Researchers at the USC Spatial Sciences Institute are also working with city leaders via the USC Dornsife Public Exchange to guide the planting of trees to shade L.A.'s poorest neighborhoods.
A strong start
Earlier this year, USC earned a silver rating in its first Sustainability Tracking, Assessment and Ratings System (STARS) report after the university demonstrated it had cut greenhouse gas emissions by 19% from 2014 to 2020. The STARS report is a benchmark for more than 1,000 American colleges and universities for comprehensively tracking and disclosing sustainability progress.
Nationwide, fewer than a dozen of those universities are carbon neutral.
"Committing to achieving climate neutrality by 2025 represents a significant acceleration of the incremental steps we have taken to date and will go a long way in solidifying our commitment to university-wide sustainability," said David Wright, senior vice president for administration. "We are making exceptional progress through increased accountability and expanded improvements exemplified by the work of the President's Working Group on Sustainability and the newly established USC Office of Sustainability."
Improving energy efficiency in USC buildings accounted for 13% of the overall reduction in greenhouse gases since 2014. In addition, USC installed motion-activated water faucets in 118 buildings on both campuses.
USC is also on track to achieve the highest standard in green building when it completes the Dr. Allen and Charlotte Ginsburg Human-Centered Computation Hall in 2023. The future home for USC computer science will be the sixth LEED-certified building at the downtown Los Angeles campus.
Solar panels crown the USC Dornsife Wrigley Institute at Catalina Island and the Galen Center. After one year, the panels at Galen Center produced 915,000 kilowatt-hours of carbon-free energy — enough to power 88 houses for a year.
These forward-looking, long-term investments into critical infrastructure … position USC as a leader in sustainable practices.

Christopher Toomey,
USC Facilities Planning and Management
"These forward-looking, long-term investments into critical infrastructure are not only cost-effective, but they also position USC as a leader in sustainable practices," said Christopher Toomey, interim vice president and executive director of Facilities Planning and Management.
Cutting the noise – and smog — in downtown L.A.
The university's vehicle fleet, including at least 600 vehicles, will incrementally transition from gas and diesel to cleaner, quieter electric vehicles. Earlier this year, USC groundskeepers switched to electric-powered leaf blowers, mowers, hedge trimmers and chain saws. The success of that transition provides a model on which the university can expand.
Thanks to the phased-in use of all-electric landscaping tools, the American Green Zone Alliance has certified USC's University Park Campus as a "green zone," the first U.S. campus to earn the honor.
Mick Dalrymple, who joined USC as its first chief sustainability officer in August 2021, has taken the lead in consolidating and optimizing USC sustainability practices under the Office of Sustainability. An experienced operations-oriented administrator, Dalrymple said climate neutrality by 2025 is an ambitious but much-needed goal.
"As the recent Intergovernmental Panel on Climate Change (IPCC) Sixth Assessment Report indicates, major action is needed in this and the coming decades in order to reduce the damage from climate change that all of us increasingly encounter," Dalrymple said. "With its vast research in sustainability matters and a culture of problem-solving, USC will lead this critical, collective effort to shape a better future."
Educating global citizens and working with our neighbors toward climate justice
Education and outreach closer to home will link up with physical improvements in order to increase awareness of sustainability practices tied to carbon neutrality. In June 2021, USC announced new curriculum to teach USC's 20,000 undergraduate students about how sustainability intersects with their major field of study, including engineering, business, dance and law, among other disciplines. The university also has increased opportunities for experiential learning, research, travel and public service.
"Coordination is necessary to confront a challenge as large as climate change, and a key component of that is ensuring our students and community members understand how carbon neutrality aids in developing sustainable practices," said Dan Mazmanian, chair of the Presidential Working Group on Sustainable Education, Research and Operations.
The university community is already engaged in sustainable practices, including upstream sorting of recyclables and compostable waste at disposal stations on both campuses. Those everyday practices will be expanded. After the recent COP26 climate change conference in Glasgow and President Joe Biden's announcement that the U.S. would be carbon neutral by 2050, the USC goal is a formidable, but attainable target.
"We take on this challenge because as an institution of higher education, we are naturally compelled to serve — it's in our DNA," Folt said. "USC takes that responsibility seriously, and through achieving carbon neutrality by 2025, we will show how impactful innovation and education can change the world."