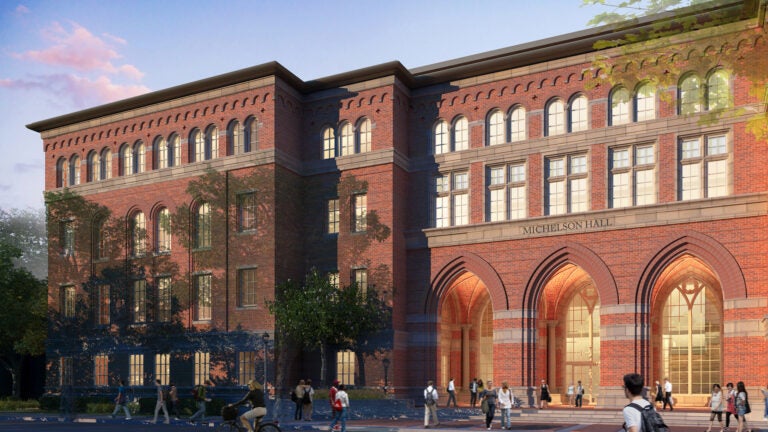 Cancer research in the era of team science
USC Michelson Center for Convergent Science emphasizes a collaborative approach to tackling cancer
https://www.youtube.com/watch?v=cA7mknVNnjM
AnneMarie Ciccarella describes herself as an "accidental advocate."
A need to understand her disease led the breast cancer survivor to travel to a national cancer conference where she met USC Professor Peter Kuhn two years ago."He turned to me and said, 'If we're trying to figure out what matters, how about we just ask the patients? Wouldn't that be a novel approach?' "Ciccarella recalled. "The two of us just started laughing."
Thanks to that meeting, Ciccarella is now among hundreds of cancer patients around the world collaborating with cancer researchers to track the path of their disease in real time.
The emphasis on collaboration among all relevant stakeholders places USC in the national spotlight as the USC Michelson Center for Convergent Science gains traction.
"The Michelson Center unites professors, scientists, engineers, students and many others in a team approach to cancer research," said Provost Michael Quick. "We're taking down walls that have separated experts in different disciplines fighting the same disease. We're confident that collaboration will lead the way toward solving the most intractable problems of this century."
A funding surge for research
Kuhn's efforts were noticed by the White House, and he was in the nation's capitol when President Barack Obama signed the 21st Century Cures Act into law in December. Kuhn heads up three studies dedicated to cancer research.
"A lot of what we've done over the past two years has been propelled to the national stage by Cancer Moonshot to accelerate cancer research," said Kuhn, referring to the challenge set out by former Vice President Joe Biden to make more therapies available to patients and improve cancer prevention and detection in the early stages of the disease.
Kuhn leads the USC Convergent Science Initiative-Cancer and is a collaborator in the Blood Profiling Atlas in Cancer (Blood PAC), a project to create the world's first global liquid biopsy database on cancer.
Kuhn's work with other investigators on circulating tumor cells in human blood has been supported in part by the National Cancer Institute.
"Peter is a living, breathing example of why we must have convergence," said Steve Kay, the leader of the USC Michelson Center for Convergent Bioscience. "There's no choice but to embrace the need for trans-disciplinary teams to tackle complex problems. With the tools and infrastructure here, we're becoming a destination for training the world about how convergence can be applied to medicine, science and engineering."
A nucleus for collaboration
The Michelson Center for Convergent Bioscience is the nucleus for collaborative USC research that will be housed in the soon-to-open Michelson Hall, which will be the largest academic building on the University Park Campus.
The building is going to be a physical hub for all these people.

Steve Kay
"The building is going to be a physical hub for all these people," Kay said. "Right outside our window, we have one of the most diverse patient populations in the world. Los Angeles has size and diversity that is greater than most countries. We can leverage that to be one of the premier sites in the country for precision medicine."
Michelson Hall will accommodate 20 to 30 principal investigators with laboratories employing hundreds of researchers and students. The spirit of collaborative science will extend beyond its walls to many schools, as well as USC's Health Sciences Campus.
"We're really excited about these initiatives that incentivize collaboration," said John David Carpten, director of the Institute of Translational Genomics at the Keck School of Medicine of USC. "This is important particularly in academia, which has promoted individuality instead of collaboration."
Carpten, like Kuhn, believes in collaborative science beyond the lab.
The Convergent Science Initiative "will provide an amazing environment for bioengineering, physics, chemistry and genomic science," Carpten said. "We can reach out to other areas, like social work and community outreach and bring to bear all these divergent disciplines to really get our hands around cultural aspects of disease as well as the biomedical aspects."
Like his friend AnneMarie Ciccarella, Jack Whelan has battled cancer and anticipates swift progress from collaborative research. Whelan actively supported the 21st Century Cures Act, consults with Kuhn and feels exhilirated when he thinks about team science.
"We're going to play a game here," Whelan said. "We're all going to collaborate. We'll get rid of preconceived notions and think differently. It's a wonderful way to do research."