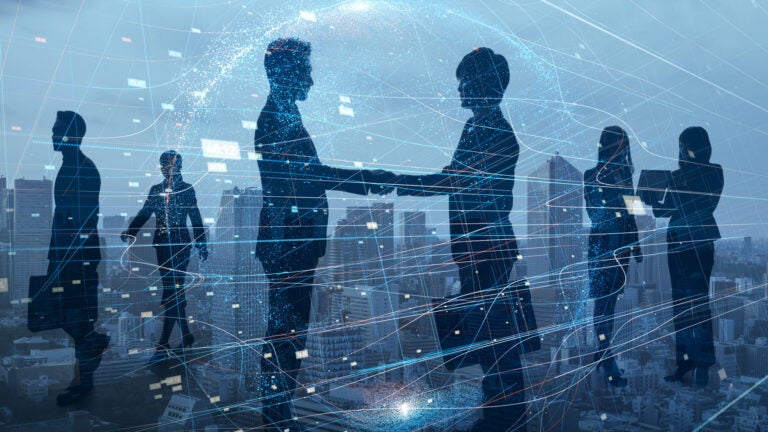 Big names help students make sense of business in a COVID-19 world
Two new USC Marshall classes will assist Trojans of all majors — not just business — in better understanding how the pandemic has affected financial markets and the economy.
As we all struggle to adapt to a world defined by COVID-19, the USC Marshall School of Business is helping students try to make sense of it all — particularly the pandemic's impact on the economy.
Professor Chris Parsons and Associate Professor Sarah Townsend are enlisting professionals to expose students in any major to COVID-era business and economic concepts.
"I tried to think: What would an art history major, engineering major or anyone in between want to know about what's relevant?" Townsend said. "It's not just, 'OK, you want to be CEO? Here's some stuff you need to know.' It's, 'OK, you're a person in the world right now. Here are some things that you need to know.'"
Townsend's new class, "If not you, who? The future of leadership" — as well as Parsons' class, "If not now, when? The future of capitalism" — are available as non-credit options this fall.
The courses — both are sections of GSBA 598 — will feature guest speakers from all over academia and the business world, from United Airlines Executive Chairman Oscar Munoz and USC President Carol L. Folt in Parsons' class to executives from companies like Redfin, TaskRabbit and Albertsons in Townsend's class.
New USC Marshall classes aim to break down COVID-19's financial impact
One speaker who particularly excites Parsons is University of Washington Professor Chris Murray. He invented the Institute for Health Metrics and Evaluation (IHME) model, which has been used to project COVID-19 hospitalizations and deaths.
"About 25% of my class is trying to understand just COVID, beyond even financial markets," Parsons said. "It's more, 'What's an antibody test? What's a nose swab test? What does it mean if a country has herd immunity?'"
The concept for both classes came from USC Marshall Dean Geoffrey Garrett and his previous experiences at the University of Pennsylvania's Wharton School. As the pandemic progressed, the Wharton School developed a seminar on how the pandemic was going to change financial markets, which received recognition across the country.
"Instead of, 'What are the core concepts that you need to learn?' It's like, 'What is going on in the world right now?'" Townsend said.
USC professors see the value of business courses for all, even after COVID-19
Both Townsend and Parson acknowledge they'd obviously prefer to teach their classes in person — in a packed auditorium where the instructors and guest speakers are seated onstage and the Q&A is done by students walking up to a microphone. But they also know that the online format makes accessibility much easier for both students and guest speakers.
Having [the class] online gives us the ability to hear from a variety of people.

Sarah Townsend
"Bringing in really big names outside the university, as well as our top faculty who are crazy busy and doing a million things, is really challenging in the in-person format. Having it online gives us the ability to hear from a variety of people," Townsend said.
Though neither can speculate on if these specific courses will continue post-COVID, both said the idea of offering these types of courses — on how economics, finance and business react to major societal changes — to students outside the business world is important.
"I think business schools need to offer something to the music major or sociology major," Parsons said.
"This is a good way for business schools to showcase the research interests of the faculty and make them real and meaningful to people, not only within the business school but outside of it."