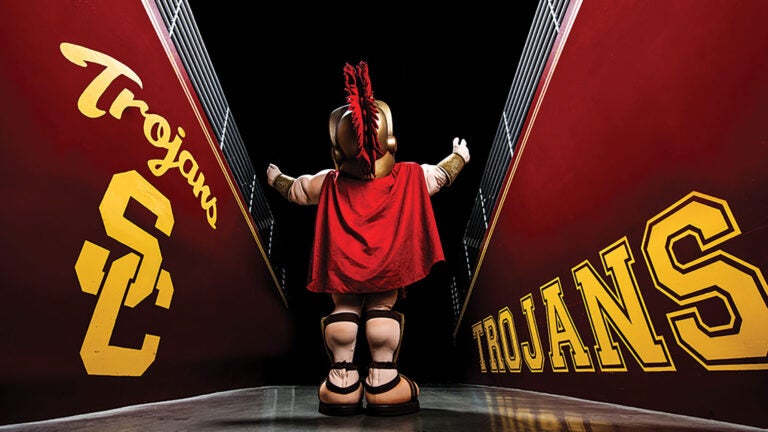 Being Tommy
Amy Vandenberg is student by day and Tommy Trojan at night.
Her hair up in a ponytail, Amy Vandenberg looks nothing like a man. You'd never guess this petite chatterbox could be transformed into a hulking Trojan warrior. Yet on game night, that's exactly what happens.
Vandenberg is the girl inside the Tommy suit—the larger-than-life mascot who rallies Galen Center basketball fans.
"Whenever I put on that suit, I seriously become Tommy Trojan," says the sophomore mechanical engineering major from Katy, Texas. "My posture changes. I stand up straighter. I put my arms out—you know how really strong guys walk with their arms out? I put a bounce in my step. I make sure every single part of me is in character."
Introduced last fall, the Tommy and Traveler mascots became instant hits thanks in large measure to Vandenberg and her fellow "mascoteers"—political science major Mario Montes, environmental engineering major Howard Gil and recently graduated business major Neal Pecchenino '14.
All are volunteers. For Vanderberg, being a mascot is more than an outpouring of school spirit. It's a chance to shape-shift.
"I love how you can put on an alternate persona and be your crazy self, or be whatever your character is, and no one knows it's you," she says.
Vandenberg got her big break during high school when she landed a job as the cow at her hometown Chick-Fil-A. Her one regret when leaving Texas for Los Angeles was that USC didn't have a mascot program. Then one day she spotted an inconspicuous flyer at the Lyon Center inviting Trojans "interested in spirit" to a meeting. "It sounds weird but I felt it calling me," she recalls. When Vandenberg realized it was a mascot recruitment meeting, she was thrilled—until she heard the Tommy suit was sized for someone measuring 5 feet 8 inches. (Traveler is even taller.)
"I'm 5-foot-1," she laments. "But when they saw me in the costume, they were like, 'OK, you're allowed. You love it so much.'"
Pretty soon Vandenberg was working popular hip-hop moves like the Dougie into her routine. The fans went wild.
Being Tommy isn't easy. Suiting up takes 15 minutes, with a helper. A muscle-bound spandex under-suit is followed by Tommy's skin. Next come bulky pants with more built-in muscles, a barrel-shaped "super chest" and the massive head, helmet and sandaled feet. The costume alone weighs about 20 pounds, not counting the heavy sword and head.
It's sweaty work, the battery-powered fan inside the head notwithstanding. Vandenberg compares it to when she played summer soccer in Texas, where the mercury would hit 104 degrees with 100 percent humidity. Thankfully, the under-suit gets dry-cleaned regularly.
There's supposed to be a half-hour time limit inside the suit, but Vandenberg has clocked 90-minute performances.
"I have way too much fun," she explains. "They can't get me off the court."
What is it about being a mascot that gives Vandenberg such a rush?
"I love doing things for people," she says. "As a mascot, you get to make people laugh, and they don't feel like they have to do anything back. And I think that's really cool."