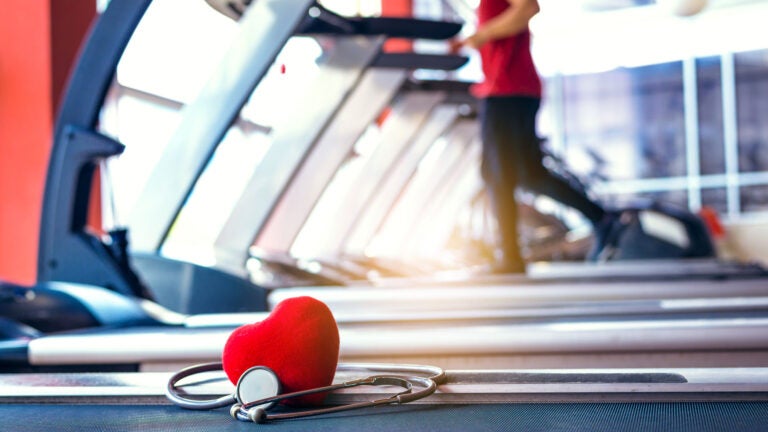 Alum's app boosts access to cardiovascular rehab
The startup Moving Analytics helps patients learn how to manage their condition via a smartphone
Heart disease is the leading cause of death in the United States, according to the Centers for Disease Control and Prevention. Three and a half million Americans suffer from coronary heart disease.
Studies from the American Heart Association find that cardiac rehabilitation cuts mortality rates by 30 percent and hospital readmissions by 25 percent. However, only 20 percent of eligible patients currently participate in such rehab.
It's a problem Moving Analytics, a startup developed by USC Viterbi School of Engineering alumnus Harsh Vathsangam, is trying to address.
"Many studies show cardiac rehab doubles the patient's chance of living another five years and greatly improves the quality of their life," Vathsangam said. "I wanted to help people with heart disease have greater access to cardiac rehab after surgery and change the way medicine is practiced. I saw this as a good opportunity to disrupt the way people are treated."
Fewer doctor visits
If patients learn how to manage their condition, their chances of readmission diminish, according to Vathsangam. In turn, hospitals would benefit because patients who aren't readmitted could save those facilities an average of $4 million per year.
After a patient is discharged from a hospital, the care provider, often a nurse, is given a dashboard to monitor them. The dashboard enables the nurse to develop a plan based on the patient's needs.
Moving Analytics developed a mobile app, allowing the patient to track his or her progress and communicate with a nurse. It also provides targeted problem solving and spurs quicker response times to lingering symptoms.
The app is essentially a companion the patient has to help them with rehab at their convenience.

Harsh Vathsangam
"The app is essentially a companion the patient has to help them with rehab at their convenience," Vathsangam said. "Since it's on their smartphone, it's engaging, which will help them stick to their rehab better. It also helps facilitate the relationship between the patient and the nurse, since they can ask questions. There's a better transfer of information."
The app is a culmination of Vathsangam's research, an intersection of mobile phones, chronic disease management, and machine learning for personal health and wellness.
A former PhD student in the lab of Gaurav Sukhatme, chair of USC Viterbi's Department of Computer Science and co-founder of Moving Analytics, Vathsangam is joined on the project by fellow USC engineers Ade Adesanya and Shuo Qiao, who serve as the company's chief operating officer and chief technology officer, respectively.
"We see technology as an amplifier of relationships — a tool to maintain that human touch even across vast distances," Vathsangam said. "Technology can amplify the abilities of the nurse by being with the patient 24 hours a day."
Rehab obstacles
Vathsangam noted two barriers to widespread cardiac rehab — cost and convenience.
For example, the patient has to visit a hospital roughly 36 times a year due to an outdated delivery and care coordination model that requires him or her to attend the sessions in an outpatient, often remotely located facility.
Rehab programs cost about $150 a week. Another obstacle crops up if the patient has a day job or lacks transportation.
Other factors include lack of physician referrals and resource limitations such as scarce physical space and staffing.
As a result, most patients are discharged without adequate transitional care, which leads to poor health outcomes, frequent readmission and higher mortality rates.
Moving the rehab process into the homes of those who need it can cut the number of required visits down to 12 or less, saving patients time, money and hassle. Equally important, it helps nurses balance and efficiently address their needs, as they can help up to 200 patients at a time using the app.
"Unfortunately, our patients aren't getting the care they deserve after a heart attack or heart surgery," Vathsangam said. "This is a potentially huge expense to a hospital system, and it can endanger their lives. This is a huge opportunity to help a population that has given so much to our country."
Getting noticed
The work of the fledgling business hasn't gone unnoticed, as it was named "Best Bootstrapped" startup at last year's South by Southwest Festival. The award is given to companies with considerable achievements in their respective fields without raising a lot of capital.
With Trinity Health and NYU Langone among its customers, Moving Analytics has accrued more than $200,000 in revenue.
"It helps us move forward and validates what we're doing," Vathsangam said. "As we focus on digital health technology, we know we're one of the best in this field."
But the company's ambitions aren't exclusive to providing care to veterans.
"Our mission is to get all people on rehab," Vathsangam said. "We want to reach up to 10,000 patients in the next two years. We want to generate more research that displays a more cost-effective way of cardiovascular rehab. This is an opportunity to change the lives of many people."