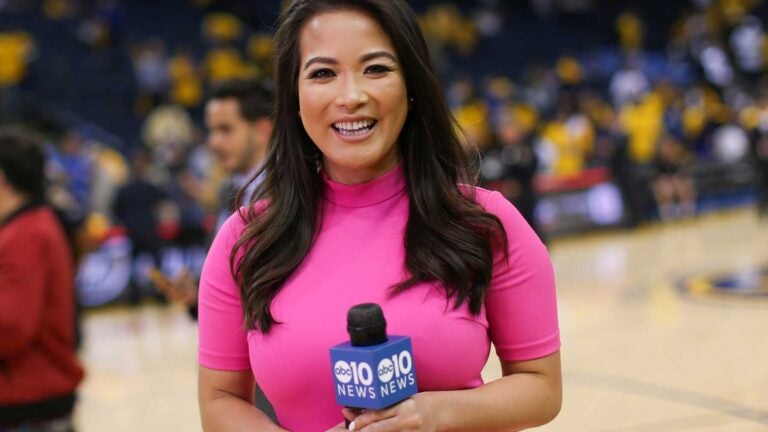 Alumna excels as TV journalist by staying true to herself, and her 'loud personality'
Frances Wang's ability to connect with people leads to success at a Sacramento station
At 10 years old, Frances Wang '14 was her mother's helper at their hermit crab kiosk in a Sacramento mall. Interacting with strangers pushed her to be more extroverted.
Then something else happened: The local NBC affiliate opened a studio next to her mother's shop. When an anchor interviewed her about back-to-school shopping, she was hooked.
Wang is now back in Sacramento, working as an anchor/reporter for ABC affiliate KXTV and winning attention for her combination of fearless live reports and a warm, down-to-earth connection with the people in her stories — and viewers. She was even featured in the Sacramento News & Review's "Best of Sacramento" issue in 2016.

Wang graduated with a bachelor's degree in communication from the USC Annenberg School for Communication and Journalism and a second degree in business administration from the USC Marshall School of Business.
Did you really know, as a 10-year-old, that you wanted to be a broadcast journalist?
The experience of watching the news every day at the affiliate's studio next to my mom's kiosk first sparked my interest. When I was interviewed — and I'm not even sure if it ever aired — it sure made me feel special. Even working with customers day to day, I was always so proud when I felt like I made a connection with people. The older I got, the more I felt this was a fitting career path. It fit my personality and my passions. I've always been good with people — from classmates to strangers. Telling stories about people is what motivates me to produce journalism. Whether it's about a man who lost his home in a wildfire or a grocery store clerk who everybody knows, with a back story no one has heard before.
What was the career path that brought you to being a reporter/anchor with KXTV?
While at Annenberg, I started with PR internships. I worked for CMPR, a sports PR agency, then Sacramento News & Review. I shifted to entertainment news and worked with an entertainment outlet called Young Hollywood, and then E! News for three semesters. And I worked as an entertainment reporter with both KABC-TV and CNN. I thought I was geared to that because I have a big personality and didn't see myself as a serious newscaster. Then the industry took a turn and wanted anchors to be more genuine and relatable. They didn't want me to be set on a teleprompter. And I think it took me a while to appreciate my loud personality. But I realized people appreciate it when you're being real, when you're true to yourself.
How has that played out in your work as a news reporter?
I think it's so important for young reporters to remember you're a human being first. I think it depends on the situation, but if you sacrifice door-knocking, you might end up getting a more emotional connection with them later. But I have been scooped because I've been too sensitive. It's hit or miss. But I've been here two years and covered so many emotional stories and everyone's been happy about them. Even people who didn't want to talk said it really helped to open up to someone. And they're happy they did.
What's an example of that approach?
There was a case of a missing girl, Aly Yeoman, near Sacramento. The FBI was involved, and a lot of media were covering it. A month later, they found her body in the river. I was able to get through to the family on Facebook, and they liked how I had been covering the story, so the father talked with me, exclusively. I spent the afternoon with the family, and we had cameras shoot them from far away. I also met with them off-camera. They gave me a slide show of their daughter. I posted it on my Facebook page, and people really loved it. To the family, I stood out to them as someone they trust. I still stay in touch with them. I'm coordinating a visit with them now, to visit their grandparents on their farm. It's not about getting them on camera any more.
Was there an experience at USC that was a defining moment for you — a time when you knew you were on the right track?
Working at ATVN [now USC Annenberg Media], I looked forward to going in every week. I loved that you have a reason to go up to someone — a politician or an official or a homeless person — and you have a reason to ask them about their lives. I've always loved starting conversations. It's so cool that we get to do that. My classes were great, but I learned so much being out in the field, meeting people.
What did you take away from your experience at USC?
I've never been surrounded by more motivated people than in college. Being at USC Annenberg pushed me to hustle, hustle, hustle. The thing I loved about Annenberg was everyone was so focused on internships. It wasn't weird to be hard-working or smart. At USC, you have all these people who are smart, hard-working and also very social, all in one place. The drive was insane. But most people are truly happy for each other when someone got an internship. People cheered for you, and it was a family that was very supportive. To this day, I'm so proud of my college classmates whenever they're successful — whether they're in a movie or their music blows up. Or even if they're behind the scenes. We're so proud of each other, and it keeps us motivated.