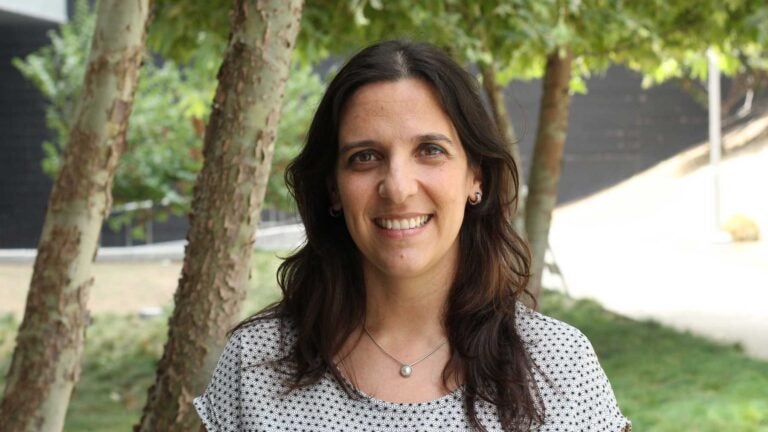 A love of science in Argentina leads to stem cell research at USC
Susana Cavallero's study of a parasitic infection was just the start of her work on cardiovascular disease
To say that Susana Cavallero comes from a small town is a big understatement.
"My hometown has only 300 people," said the USC stem cell researcher. "There were no scientists around when I was a kid. But I loved chemistry and biology in high school, and I then decided that I was going to be a scientist."
Pursuing her passion for cardiovascular research, Cavallero traveled from Argentina to Los Angeles, where she is an assistant professor of research in the Department of Stem Cell Biology and Regenerative Medicine at USC.
At the University of Buenos Aires, she earned bachelor's and PharmD degrees in biochemistry and pharmacy, and a PhD in pathophysiology with a doctoral fellowship from the National Research Council. She kicked off her cardiovascular research career by studying Chagas disease, a parasitic infection transmitted by a blood-sucking, beetle-like insect.
The infection usually begins silently, but can cause heart failure within 10 to 30 years. The disease affects as many as 8 million people in endemic regions of Latin America and has spread to some areas of the United States. She also researched many other aspects of cardiovascular disease, ranging from high blood pressure to the toxic effects of chemotherapy drugs on the heart.
Muscular work
During her postdoctoral training in the USC Stem Cell laboratory of Henry Sucov, she shifted her focus to the molecular signals involved in the development of the coronary arteries, the blood vessels that carry oxygen and nutrients to the heart muscle. She identified a key molecule, CXCL12, that is crucial for the formation of the coronary system. Her study was published in Developmental Cell.
In 2016, she received a three-year Scientist Development Grant from the American Heart Association to study the maturation of arteries and veins, a process that helps to determine the shape and function of every organ in the body.
In 2017, she won a Wright Foundation Pilot Award to explore strategies for reprogramming endothelial cells (the cells that make the inner lining of the blood vessels) from veins into arteries. She will identify the key molecular signals that drive this type of reprogramming in embryos and determine whether she can induce a similar process in adults.
The ultimate goal will be to reactivate innate developmental mechanisms for vascular regeneration after cardiac injuries, such as a heart attack, said Cavallero, who is researching the important health problem with support from the Wright Foundation.
I never decided to take dancing classes until I came here — probably homesickness.

Susana Cavallero
Cavallero has served as both the chair of public relations and information technology and as the vice president of the USC Postdoctoral Association.
Beyond the laboratory, she loves hiking and spending time with her husband, who works in the local film and advertising industry, and their 13-month old daughter. She also enjoys tango, a traditional Argentinian dance that she didn't learn until she moved to the United States.
"I always liked it because my grandfather used to sing tangos all the time," she said. "He was young during what was called the 'Golden Age of Tango' — the decade of the '40s when tango was really popular in Argentina. But I never decided to take dancing classes until I came here — probably homesickness. There are many Argentinian people who are part of the tango community in L.A., and I've also made a lot of international friends, which is really an enriching experience."