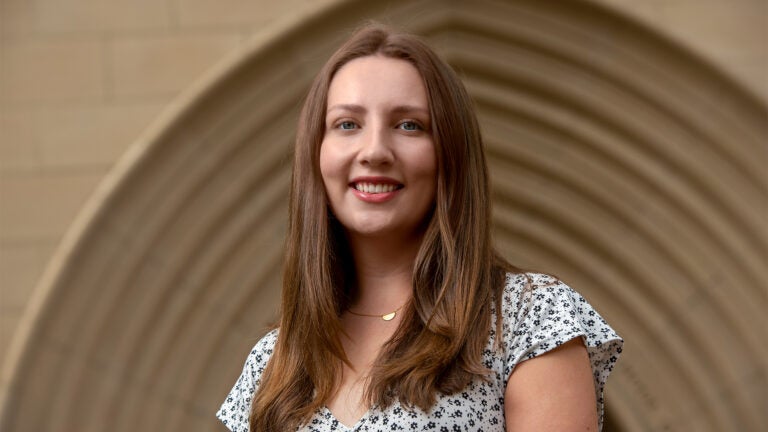 4 years later: Graduating senior Meg Schwartz looks back at the 'happy bubble'
COMMENCEMENT 2022: The communications major reflects on her student experience, how she's changed and what's next.
As an incoming freshman, Meg Schwartz said getting into USC — her dream school — was a huge confidence boost. She arrived as a communications major and leader with the gender equality youth initiative Girl Up in 2018 and wanted "to take advantage of every moment living in this 'happy bubble' surrounded by opportunities" at USC. Four academic years later, she reflected on her student experience, how she's changed and what's next.
What have been the highlights and high points of your USC experience?
My experience at USC has been full of high points. Some highlights include meeting some of my best friends, attending USC football games and becoming involved on campus. Some of my fondest memories come from living on campus in Birnkrant and the Village, as well as from my campus involvements including joining Alpha Delta Pi sorority, starting a club at USC called Girl Up, working at the USC Annenberg Digital Lounge, and being involved in the USC Marshall School of Business. I have also enjoyed exploring Los Angeles as a part of my USC experience and consider many of my high points to be simply spending time around the city with my closest friends.
Anything you learned about yourself?
I have learned that I am a lot stronger than I think. I moved to Los Angeles from the Midwest knowing one or two people, and I have found a community that is supportive, challenging and full of love. I worked hard throughout my time at USC, including a change in my major, and expect to graduate magna cum laude. I have made mistakes and learned from them. I have thrived in an environment that was out of my comfort zone to begin with, and I feel as if I have developed the skills and mindset to go anywhere or do anything.
Is there one object you'll take away from USC that means the most to you?
One object that means the most to me related to USC is my red USC sweatshirt that I purchased when I visited USC my junior year of high school and fell in love with the school. I've continued to wear it throughout my time at USC and have made many of my fondest memories while wearing it.
How would you compare your freshman self to yourself today? How have you changed?
I came to USC with an open mind and heart, and perhaps a bit of naivety. Compared to my freshman year self, today I believe that I have grown in confidence in myself and my skills and that I have developed a clearer understanding of my interests and future. I don't feel all that different from my freshman year self, and I hope that I continue to approach the world with an open mind and heart.
Throughout my four years here at USC, I have grown in my understanding of others and in my worldview. I have been introduced to people, places and experiences unlike anything that I was used to where I came from. I have also changed in my interests and studies. I switched my major from communication to business administration at the end of my freshman year.
What's next for you?
I am very grateful to say that I have plans to move to the Bay Area following graduation to work for Cisco Systems as a project specialist.
What piece of advice do you have for freshmen coming into USC?
I know everyone says this, but the time really does fly by. I know it may feel intimidating being a freshman, but embrace it while you can and enjoy all of the "firsts" — before you know it you'll be savoring the "lasts." To make the most out of your time here, I would suggest pushing yourself outside of your comfort zone and getting involved with as many different types of organizations as possible, while also being honest with yourself when you need to slow down. Find friends that challenge and support you and make you feel like your best self. And finally, utilize all the amazing resources that USC has to offer.