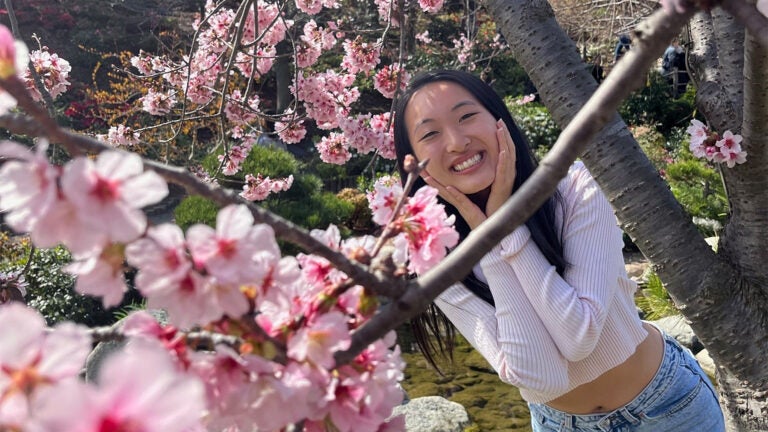 4 years later: Graduating senior Leily Zhu talks about gaining a global perspective
COMMENCEMENT 2022: The business major from Omaha, Neb., and soon-to-be USC alumna answers some questions on her last four years.
In 2018, incoming freshman Leily Zhu talked about what she hoped to experience as a USC student. The business major from Omaha, Neb., was most excited to study abroad and gain a global perspective. The soon-to-be USC alumna answered some new questions on her last four years.
What have been the highlights and high points of your USC experience?
It's difficult to choose just a few highlights from my USC experience, but here are some that are exceptionally memorable: making Christmas cookies with my friends in the lobby of Fluor [Tower] freshman year, going to Shanghai and Beijing during spring break with my GLP [Global Leaders Program] cohort, doing a two-month internship in Taiwan during the summer after freshman year, crying with my friends in Phi [USC's undergraduate business organization] when we found out we had to go home for COVID because I was going to miss them, doing a "family dinner" at 71Above and wearing blankets because it was so cold at the rooftop restaurant, receiving my internship offer to KPMG, going on my senior spring break trip to Hawaii, watching ICC [International Consulting Club] grow and flourish as president of the club.
Anything you learned about yourself?
I care a lot about the people in my life and the organizations that I am a part of. I used to think I didn't have passions, but I've found through the clubs that I have joined on campus that I am willing to put in my 110% to make the organization successful and make sure people are happy and proud to be a part of the club. People around me have told me that I am genuinely one of the nicest people they know, and I was surprised to hear that. But it's definitely something I want to carry with me when I graduate. And lastly, I'm a lot more capable than I think I am, and I'm proud to know that I have impacted a lot of people in a positive way because I've learned that for me, the people make the place and not the other way around.
Is there one object or moment you'll take away from USC that means the most to you?
There are too many moments to choose from and too many memories made with friends. I don't really think I have an attachment to any specific object from USC, but I would say that my graduation sash is something that will mean a lot to me down the road. It includes embroideries of every single student organization and important accomplishments that I have achieved during my time at USC, and I think it will be something that I can look at fondly.
How would you compare your freshman self to yourself today? How have you changed?
I think I've learned a lot about myself and gone through many different stages of my college career that have helped me grow into who I am today, and I don't regret any of it.
Freshman me was definitely a lot naiver and starstruck by the new experiences that college brought. I was very high-energy and honestly a bit chaotic as a freshman. But I was still high-achieving and cared about my academics, in addition to having fun. I think I have grown and matured greatly over my time in college, both personally and professionally. And while I may not have the same energy levels that I did as a freshman, I still have fun — and I still am unsure of what the future holds. I still am the same person as I was when I was a freshman but with more experiences, memories and knowledge. I started taking ownership of my involvements and taking on leadership roles in my clubs and projects, which definitely helped me grow and find my passions. While I have a job lined up for me when I graduate, I still have a lot of the same unknowns that I did as a freshman, and I'm still scared of change. But I think my experiences at USC have prepared me well, and I'm confident that I'll figure it out as I go.
What's next for you?
I will be working full-time as a consultant in KPMG's Transformation Delivery practice in the L.A. office. I'll still be around the L.A. area, and I'll probably visit USC a lot considering my younger brother will be starting college here next year.
What piece of advice do you have for freshmen coming into USC?
Have fun, get involved, and it's OK to mess up. College will always be one of the favorite parts of my life because it's really the only time that I can have the independence and freedom of an adult without fully being an adult. It's important to take advantage of the opportunities around you, meet people who will greatly impact your life, and learn from experiences, both good and bad. Don't worry too much about your future as a freshman, and instead, just get involved in anything and everything that interests you because that's how you find your passions and people who will mean so much to you. Just have fun. There are things that I regret, but I never regretted moments when I was having fun.
Anything else?
USC is the only school west of my home state [Nebraska] that I applied to because I was so dead set on attending a university in the Northeast. I am so thankful that I ended up at USC, because I don't think there is any other university that was better suited for me.