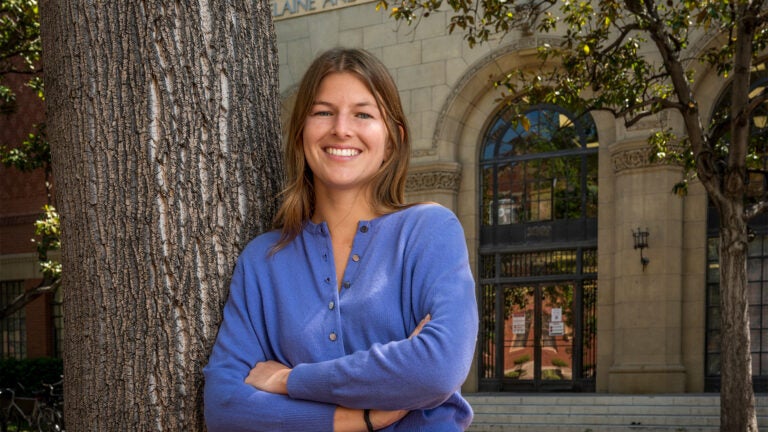 4 years later: Graduating senior Lauren Gilmour speaks to how USC widened her perspective
COMMENCEMENT 2022: Deepening her knowledge on the most pressing issues today and making solid connections over the past four years enabled Gilmour to better understand herself — and the world.
Four years ago, incoming freshman and public relations major Lauren Gilmour answered some questions as she set out on her journey as a USC student.
Recently, the graduating senior who switched majors and is now headed for a career in accounting reflected on the best moments, the challenges and growth she experienced since 2018.
What have been the highlights and high points of your USC experience?
Every day waking up with all of my best friends living a few doors down or a shared wall from me. When I walk through the gate in our little community, I enter into a space of love and enrichment. My best friends embrace me for who I am and inspire me to become a more being more thoughtful, daring, and introspective human. There is truly nothing like it, I feel very lucky. That is something I will forever cherish, and I will continue to nurture those relationships as we move across the world.
Anything you learned about yourself?
So, so much. On the school-related note, I realized public relations was not for me, as I do not particularly enjoy writing. I found that I love accounting — its structure coupled with its flexibility. It is both a science and an art, requiring creativity and critical thinking. I am never done learning, and there is no better feeling at the end of the day than getting a balance sheet to balance. I definitely have grown to know myself better as well: what I care about, believe in, and what fulfills me.
Is there one object — or moment — you'll take away from USC that means the most to you?
The official return to in person classes in fall 2021. I forgot how much I missed the little joys that come along with being on campus: the quick hellos, catching up with classmates on our weeks and weekends, Seeds Marketplace being open again (best breakfast burritos in the world), building new connections with professors, searching for new study spots, and simply being able to sit in a classroom. I could not wipe the smile off my face that day.
How would you compare your freshman self to yourself today?
I know myself better and the world. I came into USC with a solid yet sheltered foundation of knowledge. I believe that I have become more empathetic and open with a well-rounded perspective of the world. I have broken through the high school curriculum and gone into the depths of many other topics that were often brushed over. During my time at USC, I learned about the history of race and class in L.A., the Holocaust, how driving affects the elderly, and what kind of fault lines create certain earthquakes, as well as how to create an individual's tax return and account for business combinations. I have a better foundation to digest everything happening in the world today.
How do you think you've changed in the last four years?
I have grown into myself these last four years. I have learned to trust and vouch for my emotions. I stand up for what I believe in and defend what I care about. I owe so much of that to the incredible friends I have made at USC.
What's next for you?
I will be traveling all around Europe this summer to see all that I can. I took German while here at USC, so I will be spending some time in Berlin, Brussels, and Frankfurt before heading to other parts of the continent. Nothing too concrete; I am simply excited to experience new places and cultures. Then, I will be off to San Francisco. I will begin my career as an accounting associate at Frank, Rimerman + Co. this October.
What piece of advice do you have for freshmen coming into USC?
Utilize all of the resources USC has to offer. Especially all of the different library resources and search engines. We have all of the best research [tools] at our fingertips, so explore all that you are curious about.
Explore different parts of campus, too. Each year I found a new favorite spot. Currently I have been spending most of my time at the accounting library and Hoose Library in Mudd Hall.
Take PE classes. Mindfulness and Physical Conditioning have been two of my favorite classes at USC. It is a great way to lighten up your day and do something revitalizing.