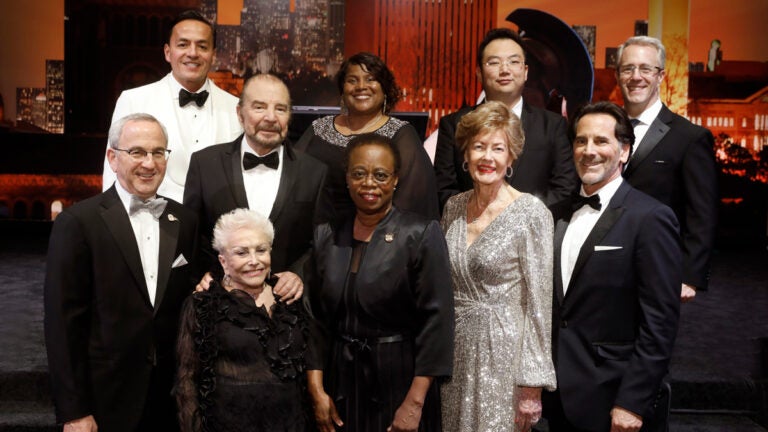 7 Exceptional Trojans Honored at 2019 USC Alumni Awards
The university honors generous trustees and longtime alumni volunteers.
The Trojan Family gathered at the 86th Annual Alumni Awards gala in May to celebrate seven notable leaders who exemplify the Trojan spirit at its best. Honored for their noteworthy achievements and outstanding service, the 2019 USC alumni awards recipients are recognized for bringing distinction to the university.
---
Asa V. Call Alumni Achievement Award
The university's most prestigious alumni award recognizes exceptional commitment to USC.
Kathleen L. McCarthy '57
Chairperson, Thomas and Dorothy Leavey Foundation
McCarthy, a USC trustee since 1986, serves as chairperson of the Thomas and Dorothy Leavey Foundation, one of California's largest and most influential philanthropic institutions. In honor of her numerous accomplishments, McCarthy Quadrangle on USC's University Park Campus was dedicated to her in 2001. In 1994, the Thomas and Dorothy Leavey Library opened as the nation's first major library designed to accommodate electronic information resources. In 2014, the foundation endowed the Kathleen L. McCarthy Honors College at USC Village. A proud alumna of the USC Rossier School of Education, McCarthy has received honorary degrees from USC, Loyola Marymount University and Santa Clara University.
---
Alumni Merit Awards
This distinction celebrates accomplishments that reflect the range and quality of a USC education.
Sandra J. Evers-Manly '81
President, Northrop Grumman Foundation; Vice President of Global Corporate Responsibility, Northrop Grumman Evers
Manly oversees charitable giving; corporate citizenship; diversity and inclusion; and ethics and business conduct at Northrop Grumman. She helped found and develop the Northrop Grumman Foundation, which provides financial support for education, veterans and disaster relief. A passionate advocate for equal opportunity, the California native is a past president of the Beverly Hills and Hollywood chapter of the NAACP. She has been honored by numerous organizations, including the USC Black Alumni Association, Black AIDS Institute, the Anti-Defamation League, the National Industry Liaison Group and the March of Dimes.
Michael Nyman '86
Founder and CEO, Acceleration Community of Companies
Nyman leads the Acceleration Community of Companies, a collective of specialized media and marketing agencies and an advisory service. Previously, he oversaw the merger of Bragman Nyman Cafarelli (BNC) with the renowned entertainment agency PMK in the fall of 2009. Within five years, PMK*BNC had doubled its revenue and represented nearly 1,000 entertainment and Fortune 500 clients and projects. Nyman has served on numerous boards over the years, including the USC Annenberg School for Communication and Journalism Board of Councilors.
---
Young Alumni Merit Award
This award honors the achievements of an alumnus or alumna aged 35 or younger.
Kevin Xu '11
CEO of MEBO International
Xu is head of MEBO International Inc., an intellectual property management company, and also serves as CEO of Skingenix, which develops drugs for organ regeneration. Xu was appointed to the California-China Trade and Investment Advisory Group by former California Governor Jerry Brown, and is vice director of the Council of China's Foreign Trade. He is a member of the international council of the Obama Foundation, the Clinton Global Initiative, the Forbes Nonprofit Council, the Fortune CEO Initiative and the Young Entrepreneur Council. Alumni Service Awards This recognition honors alumni's volunteering efforts in service to the university.
---
Alumni Service Awards
Herb '58 and Kathy Goodman '62
Emeritus Members, USC Athletics Board of Counselors
Inaugural members of USC Athletics Board of Counselors, the Goodmans served on the board until becoming emeriti in 2017. They have endowed USC men's and women's basketball scholarships and supported every USC Athletics capital project. Herb Goodman served as president of the Trojan Club of the San Fernando Valley and Ventura County for many years; he and Kathy Goodman became the liaisons representing the athletic department to all the Trojan Clubs. They attend every home basketball and volleyball game and have never missed a USC football game.
Lloyd Greif MBA '79
President and CEO, Greif & Co.; Founder, USC Marshall Lloyd Greif Center for Entrepreneurial Studies
An internationally recognized authority in the fields of mergers and acquisitions and corporate finance, Greif launched Greif & Co., a leading investment bank, in 1992. USC honored him as Outstanding Alumni Entrepreneur of the Year in 1987 and Entrepreneur of the Year in 1998. He endowed the Lloyd Greif Center for Entrepreneurial Studies at the USC Marshall School of Business in 1997 and is Chairman of the Greif Center's Advisory Council. He is also a member of USC Marshall's Board of Leaders and a former member of the USC Associates Board of Directors.